February 25, 2011 -
Dave Miller
Julio Jones signs multi-year deal with Under Armour
INDIANAPOLIS — Under Armour reached a multi-year partnership on Friday with projected first-round draft pick Julio Jones, who joins 2010 NFL MVP Tom Brady, Pro Bowl wide receivers Miles Austin and Anquan Boldin and 2010 Heisman Trophy winner Cam Newton as the latest stars to join the Under Armour family.
Jones will wear the company's footwear and apparel at this week's NFL Combine, where he will debut the E39 compression shirt — the world's most innovative athletic evaluation and improvement tool. Among its many capabilities, the shirt measures speed, g-force, horsepower, heart rate and breathing rate to offer a wide view of performance capabilities.
The E39 shirt tracks the body's biometric signals and transmits the data to a computer for evaluation by athletes, trainers and coaches. Electronic touchpoints throughout the E39 shirt communicate with a device in the front of the shirt called the Bug, which holds all of the athlete's performance data.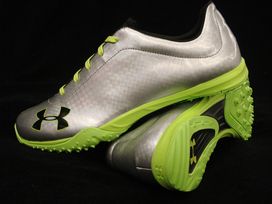 Julio Jones and Cam Newton will be wearing these cleats at the Combine.
The former Alabama wide receiver will also appear in an advertising and in-store campaign in 2011. He will be featured in a TV spot and digital campaign that will highlight his training as he prepares for the next level. The new spot — shot on-location at Ford Field in Detroit — will debut on NFL Network during the Combine, with multiple versions and various multi-media extensions released between the Combine and the draft in April.
Jones, an AP All-American, helped the Crimson Tide to the BCS national championship as a sophomore in 2009. He set single-season school records for catches (78) and receiving yards (1,133) that season and he ranks second on Alabama's career list for both receptions and receiving yards.
"Under Armour has always been on the cutting-edge of innovation and performance," said Jones. "I experienced that first-hand when I played in the Under Armour All-America Game in 2008, and I have seen it continue with the E39 shirt."
Email dave.miller@nationalfootballpost.com or follow me on Twitter at Miller_Dave