December 30, 2010 -
Dave Miller
K-Cav, J-Cut enjoy some nights on the town
Life is good when you are quarterbacking the NFC North champions and you'll be able to enjoy sleeping in during Wild Card weekend, basking in the glow of a first-round bye in the playoffs.
Life is also pretty awesome when you're dating a dame as lovely as Kristin Cavallari.
Yeah, Jay Cutler is certainly living the dream.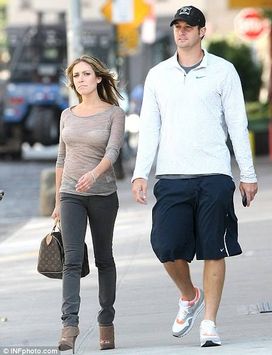 It's not a bad life being the QB of the Chicago Bears.
As tracked by the hard-working staff here at the Daily Jolt, the Chicago Bears quarterback is enjoying dating Cavallari, the former MTV reality star. They've enjoyed carving pumpkins for Halloween, she's enjoyed watching his games both in person and from various establishments in the Los Angeles area. And, of course, they've enjoyed the night life in the Windy City.
The latest story was filed late to the offices of the Daily Jolt — perhaps our sources are still on the holiday clock. But over the weekend, the former star of The Hills flew into Chicago for Christmas — and to see her guy. The pair celebrated the Bears' shootout victory over the New York Jets by hitting Market Bar with a couple of friends on Monday evening.
Our spies say that Cutler had a Black Angus burger with extra fixings, washed down by a Stella — perhaps singular, perhaps plural.
Cavallari also had an Angus burger along with a Blue Moon — at least one, according to our sources. She also thoroughly enjoyed her order of truffle fries.
Cutler had his arm around K-Cav — what a gentleman — before the two left in a cab.
But the pair wasn't done. According to another source, the two continued to celebrate Sunday's win at Mercadito the next night.
Follow the Daily Jolt on Twitter: Daily_Jolt
The Daily Jolt is a section of the National Football Post that serves as a one-stop shop for all things football, sports, pop culture and everyday life.
The section's editor, Dave Miller, also writes the Against the Grain college football column for the NFP. When he isn't putting coaches on the hot seat, he can often be found daydreaming of hanging out on set with Natalie Portman and Mila Kunis. You can follow him on Twitter at Miller_Dave.