January 17, 2011 -
Dave Miller
K-Cav rages without J-Cut at Vegas bash
While Chicago Bears quarterback Jay Cutler was preparing for his first career NFL playoff game, girlfriend Kristin Cavallari was partying hard in Las Vegas.
Yeah, that seems about right.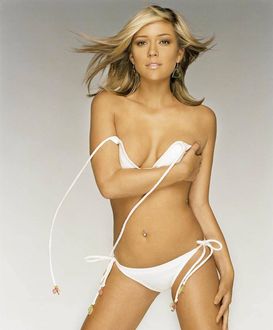 Kristin Cavallari, professional party girl.
The former reality star celebrated her 24th birthday at a bash hosted by The Bank nightclub at the Bellagio hotel in Sin City on Saturday night.
Outfitted in a short, gold strapless dress and black heels, K-Cav partied deep into the night with a group of friends, getting VIP treatment at a private table.
The blonde knockout, who turned 24 on January 5, posed with a two-tiered orange and white birthday cake, puffed on cigarettes and enjoyed multiple shots and cocktails throughout the evening.
Perhaps feeling a tad guilty Sunday morning, K-Cav composed the following tweet, "I love JC will all my ♥"
Later in the day, with J-Cut and the Bears victorious and moving onto the NFC Championship game against Green Bay, she added, "Yaaaaaa that's my boyfriend!!!! Woot woot."
Cavallari reportedly has a handful of new projects in the works after finishing on The Hills last year, including producing three new reality TV projects.
For complete pics of K-Cav partying hard, check out the Daily Mail.
Follow the Daily Jolt on Twitter: Daily_Jolt
The Daily Jolt is a section of the National Football Post that serves as a one-stop shop for all things football, sports, pop culture, everyday life and more.
The section's editor, Dave Miller, also writes the Against the Grain college football column for the NFP. When he isn't putting coaches on the hot seat, he can often be found daydreaming of being on the set of a feature film with Natalie Portman and Mila Kunis. You can follow him on Twitter at Miller_Dave.