January 29, 2013 -
Dave Miller
Kelly: 'I'm committed to Notre Dame'
Brian Kelly spoke to the media for the first time since delivering postgame comments following Notre Dame's 42-14 loss to Alabama in the BCS national championship game in Miami, as the Fighting Irish head coach participated in a teleconference Tuesday while on the road during a recruiting trip.
And, of course, Kelly was asked primarily about his discussions with the Philadelphia Eagles about their now-filled head-coaching vacancy.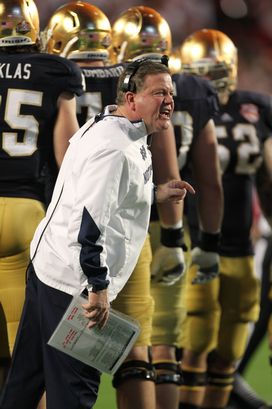 US PRESSWIREBrian Kelly said he remains committed to Notre Dame after flirting with the NFL.
"The interview was really a discussion that I had with Jeff Lurie of the Philadelphia Eagles and his leadership team," Kelly said. "The discussion was more about intrigue on my part.
"I had always been in the college game, and really did not have a good grasp of the NFL set-up. So for me, my head said, 'Let's be more informed as it relates to the NFL.' But my heart is in college football and with Notre Dame."
According to Kelly, he wants to remain coaching football on Saturdays and not on Sundays.
"Quite frankly, I wanted to answer those [questions] so I wouldn't have to go through this [in the future]," Kelly said. "We're going to win again next year and there are probably going to be teams that are going to have an interest [in me] coaching in the NFL, and I want to be able to tell them definitively that I want to coach in college.
"The intrigue was more that I wanted that information, so it's easy for me to make a decision on being here in the college game. I love Notre Dame and I love the college game. The intrigue was more just finding out about it so it's now easy for me to say no."
Kelly said he and athletic director Jack Swarbrick are committed to having a consistent program moving forward, and that he feels "really good" about the direction of the Irish. He also said he told ND recruits "up front that I'm committed to Notre Dame" and that he spoke with the team on January 27 to recommit to the players and to say that he's "going to be their coach for some time."