August 19, 2011 -
Dave Miller
Kelly to name Notre Dame starting QB Tuesday
Notre Dame's Brian Kelly said Friday that the team's competition for the starting quarterback job is nearing its end. The Fighting Irish head coach will announce the winner of the derby between Dayne Crist and Tommy Rees on Tuesday following a weekend of discussion and final analysis.
"Today was really the end of that [balancing] of reps with Tommy [Rees] and Dayne," Kelly said after practice, according to the Chicago Tribune's Brian Hamilton. "We'll meet this weekend. We'll make an announcement Tuesday on who the quarterback is at the press conference."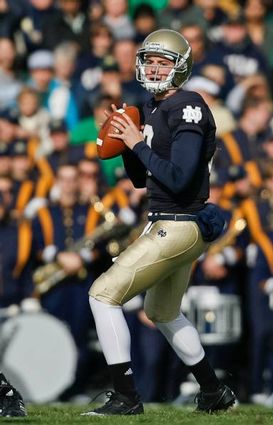 ICONWill sophomore Tommy Rees edge out senior Dayne Crist for the starting job?
Throughout the offseason, the battle for the starting quarterback job has been one of the key storylines in South Bend, and Kelly has maintained that both Crist and Rees were in a duel that was too close to call. Even after putting both signal-callers through high-pressure game situations, the decision did not get any easier.
"We were doing a production chart last night for both quarterbacks, and the deeper we dug on numbers, the cloudier it became," Kelly said.
"I've been doing it a long time, and sometimes it's easy -- you just look at the numbers and they tell you who the No. 1 and No. 2 quarterback are. We're going to get into some subjective things as we move forward. The numbers are so equal, they do things so well."
No matter who starts the season opener against South Florida, Kelly likes the Irish's chances.
"We're lucky," Kelly said. "Call it whatever you want, I got two really good quarterbacks that are ready to play championship football."
Email dave.miller@nationalfootballpost.com or follow me on Twitter at Miller_Dave