July 05, 2011 -
Barry Dorey
Kelly's silence speaks volumes
Chip Kelly has never shied away from giving the media a hard time.
At a typical presser, the Oregon head coach comes off as annoyed and irritated, which often produces blunt and sarcastic responses. But we've come to appreciate it, because his entertaining answers have always seemed to exude nothing but honesty.
These days, however, Kelly is facing serious questions about his character as the Ducks are being investigated by the NCAA.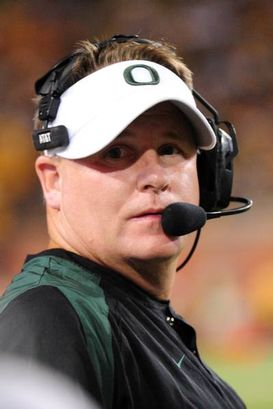 ICONOregon head coach Chip Kelly is keeping a low profile these days.
And his silence while the football program faces its greatest scrutiny and adversity speaks volumes.
While it's true that remaining mum while an NCAA investigation takes place is the norm, Kelly has always done things differently than many head coaches — from the way he handles the media to the way he conducts practices and especially in the way he disciplines his players, which has been worthy of praise during his time in Eugene. From LeGarrette Blount to Jeremiah Masoli, Kiko Alonso to Cliff Harris, he has always held his players accountable for their actions.
But if Willie Lyles' claims are true, will Oregon's administration hold its head football coach to those same high standards? And if Lyles is merely just a rogue, as the Oregon administration is trying to portray, why not vehemently deny the charges?
Following the Yahoo! Sports report last Friday detailing Lyles' involvement with the football program, Oregon issued a statement from athletic director Rob Mullens stating that the "athletic department has and will continue to fully cooperate with the NCAA inquiry. Our department is committed to helping the NCAA in any way possible and until their work is complete, we are unable to comment further.
"Oregon athletics remains committed to operating a program of integrity."
The problem with the school's statement is that it doesn't directly refute or deny any of the claims made by Lyles in the Yahoo! report. Either the Ducks have to dispute Lyles' tale and claim that they were duped by a rogue recruiting service — and explain why they haven't sought a refund on a bad investment — or they need to cut ties with the coach who delivered back-to-back BCS appearances to the school.
If rules were broken and Lyles's story is legit — keep in mind that Lyles met with the NCAA in March but withheld many of the details he would reveal to Yahoo — then Kelly can't continue to keep a job that demands accountability at all times.
While Lyles said he didn't directly influence prospects' decisions, his story clearly paints a much different picture. Directly or indirectly, Class of 2010 running back Lache Seastrunk came to Eugene instead of Auburn because of his association with Lyles. And it's up to the NCAA to decide if bylaw 13.02.14 was broken.
NCAA bylaw 13.02.14 defines a "representative of the institution's athletics interests" as someone "who is known (or should have been known) by a member of the institution's executive or athletics administration to…be assisting or to have been requested (by the athletic department staff) to assist in the recruitment of prospective student-athletes."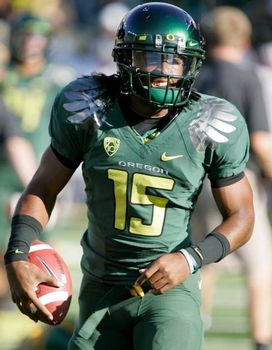 ICONThe recruitment of Lache Seastrunk is at the center of the investigation.
The NCAA must decide whether Lyles' actions went against the letter of the law — specifically his relationship with members of the coaching staff, including Kelly, and how that affected the recruitment of players such as Seastrunk and Heisman Trophy hopeful LaMichael James.
Based on the picture that Lyles painted in the report last Friday, a scouting service this was not. There's little doubt that the NCAA will talk to Lyles again, and things could only get worse for the Ducks.
On Friday, The Oregonian's John Canzano revealed that when he asked Kelly in early March about his relationship with Lyles, the head coach said he wasn't familiar with the name. Contacted later that evening after the initial Yahoo! story was released detailing the $25,000 payment by Oregon, Kelly said he was merely confused by the name "Willie Lyles," noting that "around here [in Eugene], we call him 'Will.' He also stated that the staff already distanced itself from Lyles.
That occurred on the evening of March 3. But, as we already know, hours earlier the program had received spreadsheets from Lyles with names and contact information of high school recruits — the same documents Kelly reportedly went scrambling for to account for that $25,000 payment nearly a year before.
In addition, phone records obtained by Yahoo revealed that assistant director of football operations Josh Gibson spent over an hour and a half on the phone with Lyles on June 2 — despite Kelly noting to Canzano that the program had distanced itself from Lyles.
Following the release of Friday's Yahoo! report, Lyles was interviewed by The Register-Guard, which asked him if he thought he and/or Oregon broke any NCAA rules.
"You know what, I'm not exactly sure," he said. "I can't say that we did and I can't say that we didn't because I think that the rules are very murky. There's a lot of operating room in the gray area.
"I'm not saying I'm an angel, I'm not saying I'm a devil. The truth usually lies somewhere in the middle."
"If it is [the case that I broke a rule], I'm OK with saying I made a mistake. I'm able to own up to it and be a man and stand on my own and say that."
The question is, if it's proven that he was in the wrong, will Kelly be able to own up to it?
Email dave.miller@nationalfootballpost.com or follow me on Twitter at Miller_Dave