March 07, 2013 -
Dave Miller
Kiel to transfer out of Notre Dame
The Gunner Kiel era at Notre Dame is reportedly coming to an end.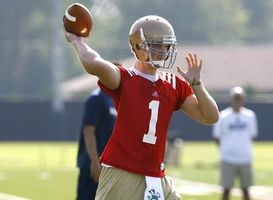 Gunner Kiel is reportedly leaving Notre Dame after one year.
According to Irish Sports Daily, the highly touted Class of 2012 product intends to transfer after enrolling in classes at South Bend last year following an early graduation from Columbus East High School (Columbus, IN).
The 6-4, 210-pounder was the Fighting Irish's scout team quarterback last year while Everett Golson started and Tommy Rees came off of the bench. Andrew Hendrix was also ahead of Kiel on the depth chart. The nephew of former ND quarterback Blair Kiel ultimately was redshirted.
Because of his strong arm and prep accolades, Kiel will be highly sought if he decides to transfer. Before ultimately electing to play for Brian Kelly and the Irish, he was committed to Indiana and LSU.
After his transfer year, the former five-star QB would have three years of eligibility remaining.
Kiel likely is leaving South Bend because Golson has a strong handle on the starting quarterback job after helping the Irish to a 12-0 regular-season record and a trip to the BCS national championship game. With Kiel on the way out, Rees, Hendrix and freshman Malik Zaire (who enrolled in January) will get reps behind Golson.