February 12, 2013 -
Dave Miller
Kiffin should hire Tedford to run USC's offense
With Kennedy Polamalu being dismissed as USC offensive coordinator/running backs coach, Trojans head coach Lane Kiffin continues to make changes to his staff following a disappointing 2012 campaign.
One coach who could make a world of difference for Kiffin as he prepares to enter a crucial 2013 campaign is Jeff Tedford, who was the longtime head coach at Cal.
While he shot down rumors in late November that the school intended to interview Tedford for the role of OC, Kiffin would be wise to give the former Golden Bears head coach a hard look for this vacancy. And not just for the title of 'offensive coordinator.'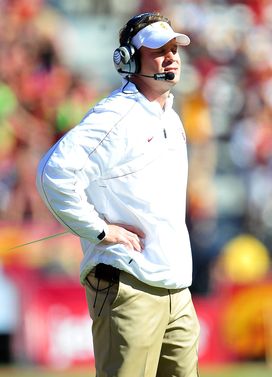 US PRESSWIRELane Kiffin will have new coordinators on both sides of the ball in 2013.
Kiffin should relinquish play-calling duties to Tedford as well.
Throughout the 2012 season, especially in the second half, the Trojans struggled on third downs and with clock management. Even when quarterback Matt Barkley was healthy, the offense never seemed to be in complete sync. Third-down attempts and clock management issues continued when Max Wittek took over under center against Notre Dame and in the team's Sun Bowl contest against Georgia Tech, both of which were losses.
Kiffin was criticized throughout the season for his handling of the offense, and rightfully so. There was too much talent on the offensive side of the football for 'SC to finish with six losses. Simply put, it was inexcusable.
Despite the rough end to his long tenure in Berkeley, Tedford is an accomplished offensive mind who also happens to be a Los Angeles native. He also knows the Pac-12 inside and out, having been a longtime head coach in the league. Additionally, he has a history with Kiffin, as the 'SC head coach was a reserve quarterback at Fresno State when Tedford was the Bulldogs' offensive coordinator and quarterbacks coach. Kiffin even relinquished his fifth season of playing eligibility to become a student assistant under Tedford at the age of 22.
Tedford was one of Kiffin's mentors. And never before has a student needed extra guidance.
Simply put, a Kiffin-Tedford reunion could be the jolt the 'SC offense needs, especially with youth under center now that Barkley is moving onto the NFL. Tedford's veteran presence could be invaluable to Wittek, Max Browne and the other QBs on the roster.
Ceding play-calling duties to someone else could also free up Kiffin to do what a head coach is supposed to do: be more of an executive who oversees the entire operation.
It seems like a good idea for Kiffin to worry a little less about handling the quarterback position and the star wide receivers while paying more attention to the team as a whole. Because while athletic director Pat Haden continues to back his head coach, 2013 is unquestionably stacking up to be a crucial year for Kiffin's future in L.A.
The Trojans head coach has already replaced father Monte Kiffin with Clancy Pendergast at defensive coordinator, and the team will likely shift to a 3-4 defense. So bringing in an established coordinator on the offensive side of the ball is a good idea as well, because we all know what happens when a head coach has two new coordinators entering a new season: the number of chances to stay on as head coach are dwindling unless winning becomes a more consistent result on Saturdays.
Kiffin may have maintained earlier in the offseason that he had no plans to talk to Tedford about any job with 'SC. But that was before the Polamalu news. And before decommitments from Class of 2013 recruits and a general overall sense of disarray within the program.
With the team looking to distance itself from a disastrous 7-6 season after entering the campaign as preseason No. 1, will Kiffin look to an old friend for help?