April 06, 2011 -
Dave Miller
Latest transgression should end Garcia era at Carolina
And just like that, the fortunes of the 2011 South Carolina Gamecocks fall into the lap of Connor Shaw.
Because for all intents and purposes, the Stephen Garcia era in Columbia is over.
Or at least it should be after Garcia, the fifth-year senior starting quarterback for Steve Spurrier's squad, was suspended indefinitely from the program, as announced by athletics director Eric Hyman on Wednesday.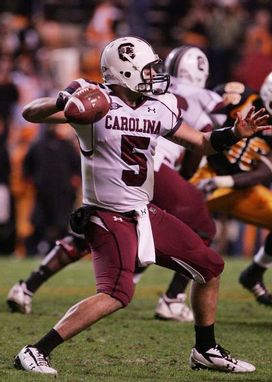 ICONStephen Garcia may have run out of chances in Columbia.
"Being a student-athlete at the University of South Carolina is a privilege, not a right," Hyman said. "We have expectations for our student-athletes and we make them aware that there are consequences for their actions. Stephen has exhibited behavior that is unacceptable for one of our student-athletes. Therefore, he has forfeited the privilege to participate in any football related activity until further notice."
In March, Garcia was suspended for spring practice — the third time he had been suspended for spring drills in his career — for reportedly having too much of a good time in Atlanta as the Gamecocks prepared for their Chick-fil-A Bowl matchup with Florida State.
According to the Twitter page of Chuck Oliver, the host of an afternoon show on WCNN AM 680 in Atlanta, the signal caller showed up at an athletic meeting on Tuesday night smelling of alcohol and was belligerent to those in charge of the event.
Garcia told The Associated Press that the suspension did not involve any arrests, nor was it drug or alcohol related.
No matter what happened to prompt this indefinite suspension, the fact is that Garcia has had multiple chances in his career to act as a leader of a Top 25 football program. And too many times he has failed to show the maturity necessary to lead a team.
There's no question that Spurrier wants to win in Columbia more than anyone. But if the Head Ball Coach believes that the 6-1, 202-pound Shaw can capably lead an offense loaded with weapons in the fall, Garcia may have just run out of chances with the Gamecocks — especially when many of the mistakes made by him, whether in criminal nature or violations of team policy, have involved alcohol.
Garcia has maintained that alcohol was not a factor in this case, which would refute multiple reports. If alcohol was involved in any shape or form, this would no longer be a football matter and he would need more help than even a coaching staff can offer. For his sake, I hope he's right.
Meanwhile, South Carolina will play its annual Garnet & Black Spring Game on Saturday at Williams-Brice Stadium. Of course, all of the attention will remain on the future of Garcia and how on earth he could find himself in trouble — yet again.
Email dave.miller@nationalfootballpost.com or follow me on Twitter at Miller_Dave