November 30, 2011 -
Barry Dorey
Leach agrees to take over as head coach at Washington State
CBSSports.com columnist Bruce Feldman, who co-wrote Mike Leach's book Swing Your Sword, is reporting that Leach has agreed to become the head coach at Washington State.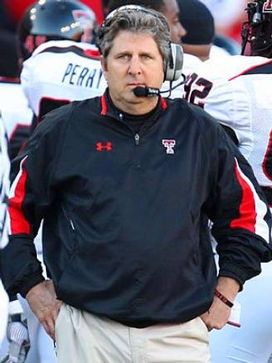 Mike Leach takes over for Paul Wulff at Washington State.
The former Red Raiders head coach took his team to bowl games in each of his 10 seasons in Lubbock. He has a career mark of 84-43, and the Red Raiders finished in the top 25 in five of his last six seasons.
Leach was fired from Tech in December 2009 after allegations that he had mistreated Adam James, the son of ESPN announcer Craig James. Leach has since sued the school for breach of contract and has filed a suit against ESPN and James for defamation. The cases remain unresolved.
Washington State athletic director Bill Moos announced Tuesday that Paul Wulff would not return as head coach in 2012 after Wulff completed his fourth year at the school with a 4-8 mark. He had one year remaining on his original five-year contract.
While the Cougars haven't been to a bowl game in eight years, they did make two Rose Bowl appearances between 1997 and 2003. So the program has enjoyed success in the past.
With the 50-year-old Leach arriving in the Pac-12, the league continues to raise its national profile as well as getting even more exciting both on and off the field. Leach's high-octane offense will give Pac-12 defenses fits on Saturday afternoons.
New Arizona head coach Rich Rodriguez joins USC's Lane Kiffin and Oregon's Chip Kelly as high-profile coaches in the expanded league. Houston's Kevin Sumlin has been linked to the openings at UCLA and Arizona State, and his brand of offense would fit in well in the Pac-12. Those two schools are looking for new head coaches after dismissing Rick Neuheisel and Dennis Erickson, respectively.
Email dave.miller@nationalfootballpost.com or follow me on Twitter at Miller_Dave