August 11, 2012 -
Dave Miller
Life after the 'Honey Badger'
To hear more about Tyrann Mathieu's dismissal, Bobby Petrino's comeback tour and more, check out my appearance on Yahoo! Sports Radio from Friday.
There's no question the loss of 2011 Heisman Trophy finalist Tyrann Mathieu is a huge blow to LSU's defense.
NFL draft analysts will argue the Honey Badger's draft stock for 2013, but no one can disagree with the impact that Mathieu has had on games in his career down in Baton Rouge.
As pointed out by BCS guru Brad Edwards on Twitter, LSU scored six touchdowns while trailing in games last season. And Mathieu had half of them without even playing on offense. His impact on special teams is incredible (see games against Arkansas and Georgia), and he's a turnover-creating machine. And while his coverage skills aren't exceptional, he was being counted on to start opposite Tharold Simon with Mo Claiborne off to the NFL. And this was expected to once again be one of the top defenses in the country.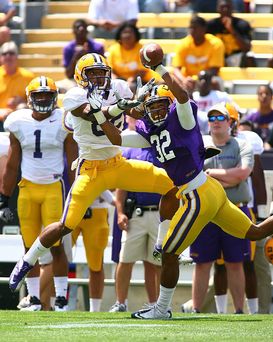 US PRESSWIREJalen Collins was impressive this past spring, and he'll be counted on to replace Tyrann Mathieu at CB.
So how do the Tigers replace Mathieu's all-around capabilities?
Well, redshirt freshman Jalen Collins will slide into the starting cornerback spot opposite Simon, getting the opportunity to show why he won the "Most Improved" award at LSU's spring practice. It's a huge spot for Collins, who will come under immediate attention starting for a John Chavis defense on the No. 1 team in the nation.
The 6-1, 184-pound Mississippi native was a four-star prospect who recorded three interceptions and blocked two field goals as a high school senior. He has been lauded by teammates for his athleticism, so there is intrigue with Collins moving up the depth chart. And Mathieu's strength was never his coverage skills, so there may not be any dropoff there.
As for who will now return punts for the Tigers, head coach Les Miles said at his press conference Friday that wide receiver Odell Beckham would replace Mathieu as the primary punt returner. Beckham returned nine punts for 77 yards (8.6 average) last season and five kickoffs for 120 yards (24.0 average). While Beckham should be able to handle the roles well, it's hard to imagine anyone pulling off what Mathieu was able to do last year in the contests against Arkansas and Georgia: running back punts for scores to shift the momentum of the game.
Mathieu was also exceptional at creating turnovers, whether it was on a cornerback blitz and knocking the ball loose from a quarterback, ripping the ball out of a running back's grasp or making a key interception. In his two seasons, he set the school record for forced fumbles with 11 and could have set the NCAA mark with just four more. It will certainly be odd to not see the Honey Badger on the field this fall for the Tigers, but there's no question the team can't look anything but forward on their drive toward another BCS title game.
LSU should have an improved offense, the defense will still be stout and the special teams will be sound. But how much will this squad miss Mathieu's ability to be the X-Factor in opponents' weekly game plans?
Email dave.miller@nationalfootballpost.com or follow me on Twitter at Miller_Dave