January 08, 2015 -
Dave Miller
Life after Winston at Florida State
College football fans will — and should — miss Jameis Winston next season.
The Florida State quarterback, who decided that he will make himself available for May's NFL Draft, was one of the most exciting players to watch over the last two seasons. His on-the-field work each Saturday the last two falls will certainly be etched in the memories of every fan of the sport. Winston's pocket awareness, vision, arm strength and athleticism make him a likely first-round draft choice this spring even with the off-the-field character concerns.
Throughout the 2013 season, we saw Winston and the Seminoles essentially waltz their way to an undefeated mark and a BCS national championship. The Alabama native's body of work was truly Heisman Trophy-worthy in his first season as the starting signal-caller in Tallahassee.
The 2014 season was different, however. Winston struggled taking care of the football, and the 'Noles found themselves in almost weekly holes, needing to storm back to complete another undefeated regular season before being steamrolled by Oregon in the Rose Bowl last week.
But even through the struggles, we were able to have a newfound appreciation for Winston's will to win. He may have tossed 18 interceptions compared to 25 touchdowns this fall, but his talent never went unquestioned as he compiled a 26-1 mark as a starting quarterback. He recorded 65 touchdown passes and 7,964 passing yards since the start of the 2013 season, and he likely made NFL scouts drool with some of his second-half performances last fall.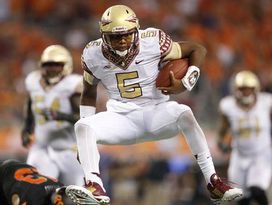 Jameis Winston will leave a huge void in Tallahassee.
Certainly, FSU will have one less major off-the-field headache to deal with now that Winston is heading to the pros. But his on-the-field performance will be awfully difficult to replace.
So how will head coach Jimbo Fisher and his offensive staff do it, assuming that a potential transfer by Ohio State star Braxton Miller doesn't occur?
Well, the competition will be open, especially because Jacob Coker elected to transfer to Alabama and compete with Blake Sims this past offseason. Redshirt sophomore Sean Maguire has the early lead because he served as the top backup and started against Clemson when Winston was serving his one-game suspension. Maguire completed 21 of 39 passes for 304 yards and a touchdown against two interceptions versus the Tigers. That was his most significant action, though. However, that performance stacks up pretty well considering how nasty that Clemson defense was in 2014.
Starting this spring, Maguire will have to fend off competition from former highly ranked recruits. J.J. Cosentino redshirted this past season, John Franklin served as the No. 3 and incoming freshmen De'Andre Johnson, Deondre Francois and Kai Locksley will enter the mix. Some close to the 'Noles believe that Franklin could switch positions eventually, while Johnson has already enrolled early, which gives him a bit of a lead on the other freshmen. Meanwhile, Fisher is very high on Cosentino, who figures to be the biggest competition for Maguire.
No matter who wins the job, it's almost an impossible task for him to live up to the play of Winston. Making things even more difficult is the fact that the offensive line will be riddled with inexperience, as left tackle Roderick Johnson is the only one coming back next season. Star receiver Rashad Greene and clutch tight end Nick O'Leary will also be gone. And while it's true that the 'Noles have a ton of talent waiting for bigger opportunities, such as receivers Travis Rudolph and Ermon Lane, it doesn't give the new QB much room for error.
However, Fisher knows QBs, as Winston could become the third FSU quarterback selected in the first round in the past five years, joining Christian Ponder in 2011 and EJ Manuel in 2013. So the 'Noles will likely be productive enough on offense to be consistent threats to win the ACC each year as long as Fisher is in town.
But, even with the off-the-field drama that followed him around, there's only one Famous Jameis.
Dave Miller, the college football editor for the National Football Post, is on Twitter @Miller_Dave.