November 07, 2011 -
Dave Miller
Like Lazarus, Neuheisel is enjoying a revival at UCLA
It's amazing what a win over a division foe can do for the psyche of a football program.
Entering Saturday night's game at the Rose Bowl against Arizona State, not many people were giving UCLA much of a chance against the Sun Devils, a team that controlled its own destiny in the Pac-12 South after wins over division rivals Utah and USC. Despite slip-ups against Illinois and Oregon, Dennis Erickson's Sun Devils were primed for a spot in the inaugural Pac-12 title game.
But Rick Neuheisel's squad had other ideas this past weekend, as the Bruins claimed an exciting 29-28 victory over ASU. The Bruins now control the race in the Pac-12 South.
It's an amazing turnaround for a team that looked so lifeless in an embarrassing 48-12 loss on October 20 against an Arizona squad that had just fired its long-tenured head coach. Neuheisel was left for dead after the listless loss to the Wildcats.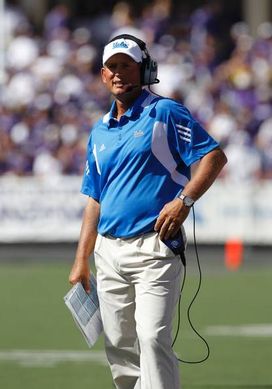 ICONRick Neuheisel has kept the Bruins afloat even after suffering an embarassing loss to Arizona.
But what a difference two weeks can make.
The Bruins (5-4, 4-2 in Pac-12) enter their final three games playing their best football in a long time, coming off of consecutive impressive victories over Cal and ASU following the dismal performance against Arizona. Behind the rushing of tailback Derrick Coleman, who has 189 yards and five touchdowns the last two weeks, and quarterback Kevin Prince, whose rushing ability enhances his value even when his accuracy is lacking through the air, the Bruins had a well-balanced attack against the Sun Devils.
Neuheisel's team still battled the turnover bug and committed bad penalties on Saturday night. And their defense struggled to contain Sun Devils quarterback Brock Osweiler and running back Cameron Marshall. But, in the end, UCLA found a way to win on the last drive, which is something no one would have thought possible if you consider how it has played in crunch time in the Neuheisel era.
While he still needs to finish the season strong, Neuheisel at least has shown that he is well-equipped to get his team to believe in itself and keep playing hard when any and every outsider believed the team had quit. The team's fighting spirit certainly is emblematic of its head coach.
With the team one victory away from becoming bowl eligible, will just a minor postseason bid be enough to net Neuheisel a chance to lead the team in 2012?
All of that talk doesn't matter right now, just as the negativity just two weeks ago became moot with the back-to-back victories.
First and foremost, UCLA needs to take care of business this weekend against Utah in Salt Lake City. Maintaining focus and remembering the awful feeling the team must have had in Tucson will be essential to a strong finish. A home game with Colorado follows the contest against the Utes before the regular-season finale at USC.
And we all remember when Neuheisel first took the job in Westwood that he talked about gaining an edge on the Trojans in terms of the program's visibility in and around Los Angeles. If he can keep this revival act up, he may just have that long-awaited opportunity.
Could anyone have expected that to be possible just two weeks ago?
Email dave.miller@nationalfootballpost.com or follow me on Twitter at Miller_Dave