April 28, 2011 -
Dave Miller
Live NFL Draft blog and analysis
Finally, it's here.
Throw out the mocks and forget about the labor situation. Our three-day NFL holiday is here, and the National Football Post's Daily Jolt section is proud to be bringing you our live blog and analysis for the first round of the 2011 NFL Draft.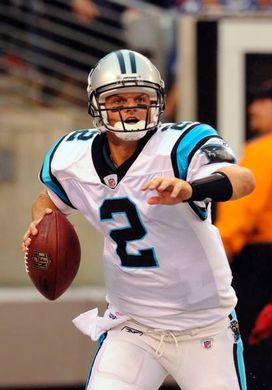 ICONThe last two drafts have not been kind to Jimmy Clausen.
In what has become nearly as big of an event as the Super Bowl, the three-day extravaganza kicks off tonight with the Carolina Panthers on the clock. Will they select Heisman Trophy winner Cam Newton? Or will Ron Rivera land his franchise defensive lineman, such as Alabama's Marcell Dareus?
The latest reports out of Carolina state that Panthers owner Jerry Richardson has signed off on the idea of bringing in Newton, the dual-threat signal caller from defending national champion Auburn. So expect new quarterbacks coach Mike Shula to deliver that playbook tomorrow morning.
In case you missed it earlier this afternoon on the NFP main page, our writers released a final mock draft. Check it out here.
In addition, my colleague Matt Bowen will be conducting a first-round live chat all night as the picks come off the board.
Without any more nonsense, let's start draft night!
7:45 p.m. ET: After months of speculation, tons of innuendo and enough talk about the much-maligned QB class, we are minutes away from the Carolina Panthers making the first pick in the draft.
7:53: Cecil Newton in the house!
8:03: Newton is exchanging hugs in the green room. He will officially become a member of the Panthers organization.
8:04: Commissioner Roger Goodell addresses the crowd. "Let's get back to some football," he says. The crowd is chanting, "We want football!"
1. CAROLINA selects Cam Newton
It's a little surprising that the Panthers didn't go with a safer pick of one of the top defensive linemen, such as Dareus. Obviously, Newton has a ton of upside and has a high ceiling. But is he willing to dedicate his life to being an NFL quarterback?
8:09: "It's time to get to work now," Newton declares.
8:12: Denver's defense was horrid last season and had the fewest sacks in the league. Selecting Dareus would be smart, but drafting Von Miller would be smarter.
2. DENVER selects Von Miller
8:16: There's concern whether he fits into the 4-3, but John Fox will use multiple fronts and Miller will definitely produce in Denver. Very smart pick. The Broncos should address the defensive line with one of their two second-round picks.
3. BUFFALO selects Marcell Dareus
8:20: Buffalo finished 32nd against the run last season. Dareus gives you a powerful yet quick defensive tackle who can play a variety of roles in the 3-4 defense.
4. CINCINNATI selects A.J. Green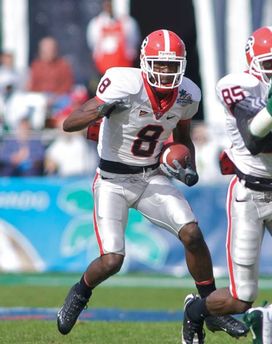 ICONA.J. Green didn't seem thrilled to be on his way to Cincinnati.
8:24: The Bengals know that they'll need weapons with uncertainty surrounding T.O. and Ocho. Will Green be enough to keep QB Carson Palmer in Cincy? By the way, Green does NOT look happy. Can you blame him?
8:30: The Cardinals look like they may take the best player available in LSU cornerback Patrick Peterson. He should also contribute in special teams as a dynamic return man. Check out why the Cards may not go QB here.
5. ARIZONA selects Patrick Peterson
8:34: ESPN's Adam Schefter and Chris Mortensen are reporting that Julio Jones will be selected by Atlanta after the Falcons traded up for Cleveland's pick. The Falcons reportedly tried to move up with Cincy and get Green.
6. ATLANTA selects Julio Jones via Cleveland
Wow! The Falcons gave up their first-round pick (No. 27) along with this year's second and fourth, as well as their first and fourth in 2012 to move up.
7. SAN FRANCISCO selects Aldon Smith
This is surprising. Many scouts and analysts love Smith. I just think he's a little raw to go this high.
8. TENNESSEE selects Jake Locker
Another wow! We heard whispers this week of the Titans being interested in Andy Dalton. But Mike Munchak and Co. take the Washington signal caller at No. 8. Locker has never been the most accurate passer. Can he develop into a franchise signal caller? Funny that his fall from potential 2010 No. 1 pick wasn't as far as many had thought after all.
9. DALLAS selects Tyron Smith
He was everyone's top tackle in the draft, but he still needs time to develop. Can he be the top-notch left tackle the Cowboys expect?
9:00: It looks like the Jaguars have made a move up to grab QB Blaine Gabbert. The Redskins hold the No. 10 pick.
10. JACKSONVILLE selects Blaine Gabbert
We haven't really seen Gabbert make too many tough throws at Missouri because of the offense run in Columbia. His third-down completion percentage was very subpar last season so he certainly has a lot of work to do. However, he likely will sit behind starter David Garrard.
11. HOUSTON selects J.J. Watt
The Texans still need help in the secondary, and it was a little surprising that they passed on Robert Quinn. But Watt should help Wade Phillips in his first year as defensive coordinator.
9:14: Will the Vikes take Da'Quan Bowers, whose knee has been the talk of the draft season? The Vikes were reportedly high on Locker, so they could be looking to move down.
9:15: By the way, Nick Fairley remains on the board.
Christian Ponder surprisingly went No. 12 to Minnesota.
12. MINNESOTA selects Christian Ponder
Bill Musgrave gets his franchise signal caller, but it's stunning to see Ponder taken this high.
13. DETROIT selects Nick Fairley
As a lifelong Lions fan, I am ecstatic. I know they need help at corner, but perhaps they can snag Brandon Harris in round 2?
14. ST. LOUIS selects Robert Quinn
Incredible value for the Rams, who add an impact pass-rusher with this selection.
9:32: Will the Dolphins take Mark Ingram? Of course, his dad played in Miami.
15. MIAMI selects Mike Pouncey
Pouncey can play guard or center at the next level, and some believe he can even play well at tackle. He's about as solid of a pick as you can get, although he isn't quite up to the level of brother Maurkice.
16. WASHINGTON selects Ryan Kerrigan
The former Purdue standout isn't a sexy pick, but he fits into Washington's 3-4 defense. He proved during the draft process that he is athletic enough to play standing up.
9:44: We're halfway home. May need to pick up another sixer of Rolling Rock. Do I kill what's left of the pizza?
17. NEW ENGLAND selects Nate Solder
I've maintained that I think Solder still needs developmental time, but you can't get a better fit than New England when it comes to offensive linemen. The first of many high picks in the draft for the Pats.
9:54: I think Cameron Jordan would be a slam dunk for the Chargers here at No. 18.
18. SAN DIEGO selects Corey Liuget
Liuget really rose up the draft boards following his standout 2010 season at Illinois. The Chargers were in need of a lineman, and Liuget should provide help immediately.
19. N.Y. GIANTS select Prince Amukamara
Who would have thought that Amukamara would be here at No. 19? The Giants needed help in the secondary and they get it with the Prince, who should adjust to the NFL game despite not having the greatest technique.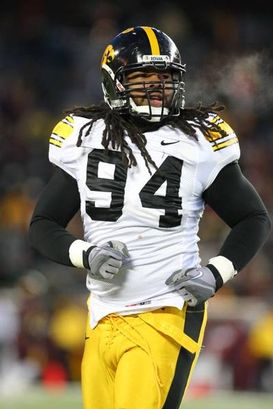 ICONTampa Bay selected Adrian Clayborn at No. 20.
20. TAMPA BAY selects Adrian Clayborn
Clayborn may not have had a dominant 2010 season, but he gives the Bucs another quality piece to add to the defensive line.
21. CLEVELAND selects Phil Taylor via Kansas City
New defensive coordinator Dick Jauron gets a real nice plug for the interior of the line.
22. INDIANAPOLIS selects Anthony Castonzo
The Colts get great value in Castonzo, who was labeled by many as a Top 15 pick. Indy needed help on the offensive line, and Castonzo provides the highest floor out of all the tackles.
23. PHILADELPHIA selects Danny Watkins
The 26-year-old guard and former Canadian hockey player really improved his draft stock during Senior Bowl practices. He will convert to the interior from left tackle.
24. NEW ORLEANS selects Cameron Jordan
Jordan can play in a variety of roles along the defensive line, and I'm shocked he was still here at No. 24.
10:42: Mark Ingram remains on the board.
25. SEATTLE selects James Carpenter
The Alabama product can play tackle or guard but he's really a reach at this point.
10:56: This Ravens pick has to be Jimmy Smith. He would not be a problem in the veteran Ravens locker room.
11:00: Baltimore did not beat the clock. Kansas City is ready to pick apparently.
26. KANSAS CITY selects Jonathan Baldwin
There are character concerns with Baldwin, but he had an incredible 2009 season at Pitt. QB Matt Cassel needs weapons, and Baldwin gives K.C. a real threat as a big receiver if he stays on course.
27. BALTIMORE selects Jimmy Smith
Just a great pick for the Ravens, who really needed secondary help. Smith will be able to make an impact right away in Baltimore.
11:09: New Orleans has moved back into the first round after acquiring this pick from New England. It looks like Ingram will be a Saint.
28. NEW ORLEANS selects Mark Ingram via New England
Ingram breaks down after Suzy Kolber reads an email from his dad, who is serving time in prison. Touching moment.
11:18: Bears must take Gabe Carimi.
29. CHICAGO selects Gabe Carimi
He said back at the Combine that he was the best tackle in the draft. I sure as hell wasn't going to argue with that beast.
30. N.Y. JETS select Muhammad Wilkerson
The hometown fans may have wanted Bowers, but Wilkerson will provide pressure from the inside for the Jets as a pass rusher and run defender.
31. PITTSBURGH selects Cameron Heyward
The son of Craig "Ironhead" Heyward will not turn out to be Vernon Gholston, another former Buckeye who struggled after being a high pick of the Jets.
11:33: How is Bowers still on the board?
32. GREEN BAY selects Derek Sherrod
The Mississippi State product goes to the world champion Packers.
Follow me on Twitter at Miller_Dave
The Daily Jolt is a section of the National Football Post that serves as a one-stop shop for all things football, sports, pop culture, everyday life and more.
The section's editor, Dave Miller, also writes the Against the Grain college football column for the NFP. When he isn't putting coaches on the hot seat, he can often be found daydreaming of being the next winner on The X Factor.