February 04, 2011 -
Dave Miller
London takes advantage of fertile local recruiting grounds
Can Virginia emerge as an annual contender in the ACC Coastal division? Why not?
With head coach Mike London leading one of the most underrated recruiting staffs in the country, the Cavaliers will be bringing in enough talent annually to build a consistent winner.
The hard part now is actually going out and winning on Saturdays.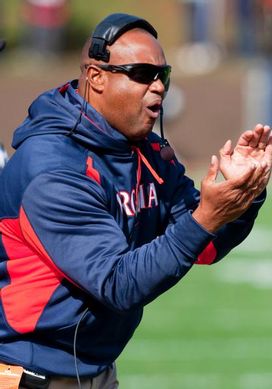 ICONVirginia head coach Mike London and his staff are making their mark on the recruiting trail.
Following a 4-8 season with seven losses coming in the conference — including a 37-7 setback to in-state rival Virginia Tech — the Cavaliers landed a Top-25 signing class behind the tireless work of London and his staff.
Yes, the Cavs finished ahead of the Hokies on the recruiting trail — which, of course, doesn't mean much in February.
But for everyone associated with the program in Charlottesville, this Cavs team is on the rise after it fell on hard times in the later years of the Al Groh era. London has been building the squad's depth the last two recruiting periods, and he landed most of his best recruits from within the state of Virginia and its surrounding regions.
After Frank Beamer's Hokies patrolled the state for so many years, London is intent on not letting that happen on his watch. Both coaches operate in a fertile recruiting area, but for too long Virginia Tech was getting the state's best talent. Now, there will be serious battles for the region's top recruits.
Highlights of this Cavs class include athletes Darius Jennings and Dominique Terrell, explosive athletes who should make an impact whether they play on offense or defense. Their presence also will help in the return game. Cornerbacks Demetrious Nicholson and Brandon Phelps, meanwhile, highlight a nice haul of defensive backs that will shore up the Cavs' secondary.
Keep in mind that London redshirted many of his players from the Class of 2010, so he has good talent ready to take the field that we haven't even seen yet. Combined with this incoming class and a nice solid core of fifth-year veterans, Cavs players should expect some serious competition in spring and fall camp.
And healthy competition is a coach's dream, because that means that depth abounds throughout the roster.
Email dave.miller@nationalfootballpost.com or follow me on Twitter at Miller_Dave
Want to work in the NFL? Click here to sign up for the NFP's "Chalk Talk at the Combine" Seminar February 25 in Indianapolis.