February 14, 2013 -
Dave Miller
LSU fans should be excited about Cameron
LSU will make the hiring of Cam Cameron as offensive coordinator official on Friday, as the Tigers look to boost an offense that underwhelmed at times last season. Current offensive coordinator Greg Studrawa will likely move back to offensive line coach, which should help the Bayou Bengals up front. Meanwhile, quarterbacks coach Steve Kragthorpe likely will assume an administrative role.
With the former Baltimore Ravens OC coming into the picture, Tiger fans should get excited.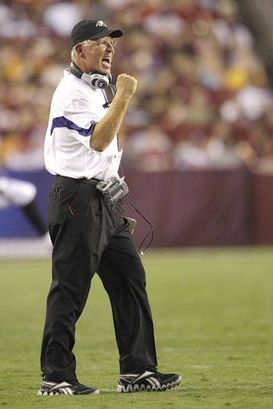 Cam Cameron will be the new OC at LSU.
A student of the "Air Coryell" offense from San Diego Chargers legendary head coach Don Coryell, Cameron has worked with future NFL quarterbacks such as Elvis Grbac at the college level at Michigan, and he was the head coach at Indiana when Antwaan Randle El was confounding defenses with his dual-threat capabilities. When he moved onto become an offensive coordinator at the NFL level, he worked with future Pro Bowl quarterbacks Drew Brees and Philip Rivers. Most recently, he helped tutor Joe Flacco before the Baltimore QB helped lead the Ravens to the Super Bowl.
So LSU is certainly bringing in an accomplished mind to Baton Rouge. And this is great news for Zach Mettenberger and the Tigers' offense.
Because of his work at Indiana, we know what Cameron can get out of players that weren't highly regarded prospects coming out of high school. But at the NFL level, he also greatly succeeded with dropback pro-style passers, which fits Mettenberger's style.
Because tight ends are a vital part of Cameron's offense, Mettenberger will be able to better utilize his safety options on shorter routes while also hitting them down the seams. While the Tigers may not turn one of their TEs into prolific Charger Antonio Gates, that position is heavily utilized in Cameron's scheme. Travis Dickson and perhaps JUCO transfer Logan Stokes have to be smiling at the thought.
Cameron also likes to employ his tailbacks and fullbacks as pass-catchers out of the backfield in this offense as well, as LaDainian Tomlinson and Ray Rice found out. While he still will employ a power-run game as head coach Les Miles loves, Cameron will make sure players such as a healthy Alfred Blue and Jeremy Hill become better pass-catchers.
But, ultimately, Mettenberger will get to take shots down the field in this offense. Again, Miles loves the power run game. And so does Cameron. But the new OC loves to go aerial, and Mettenberger will have almost his entire receiving corps back except for Russell Shepard.
A player who threw for over 200 yards in four of his final five games of 2012 could be primed for a breakout year.
And that has to make Bayou Bengal fans smile.