January 09, 2012 -
Dave Miller
LSU-Alabama: BCS title game halftime analysis
LSU and Alabama have played one half of football at the Mercedes-Benz Superdome in New Orleans, as the Tigers and Crimson Tide try to capture the BCS national championship. The Tide leads 9-0 after two quarters of play.
Let's take a look back at the first half of action and what could be ahead...
The summary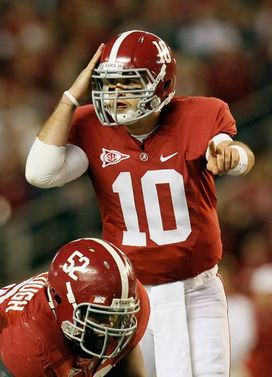 AJ McCarron has been the game's MVP after one half of football.
We had a feeling that Alabama would open things up a bit offensively, but who could have imagined that quarterback AJ McCarron would throw the football seemingly on every down? Offensive coordinator Jim McElwain has employed a variety of formations and different personnel groupings than we saw in the first meeting, using receiver Darius Hanks in the backfield as well as tackle Barrett Jones. He's called a nice dose of play-action for McCarron, which has helped slow the LSU rush. The play-action occurred mostly on first down, exactly what 'Bama wanted to do. And there were also a good number of quick throws for the signal-caller, who is 18 of 25 for 156 yards, to avoid the LSU rush. Sixteen of the 18 snaps for Alabama on first down have been passes -- a big change from what we've seen this year.
However, LSU's defense has stepped up when Alabama was on the move deep inside of Tigers territory. LSU has held the Tide to three field goals and blocked another, once again a problem for an Alabama offense that only scored touchdowns on 58 percent of its trips to the red zone this season. The problem for the Tigers is that they haven't been able to get anything going offensively.
The key play
Of course, special teams has played a big role in this one thus far. The first spark came when Alabama receiver Marqis Maze returned a punt 49 yards to set up the first field goal. That play was also huge because the receiver appeared to injure his hamstring on the runback, and his return is very questionable. On the flip side, LSU caught a break when defensive lineman Michael Brockers blocked a 42-yard Alabama field goal attempt. Other than those two plays, it's been a game of good offense vs. bad offense.
What's next?
If LSU cannot get going offensively in the second half, Alabama will win its second national championship in three seasons. The Tide has outgained the Tigers 225-43, and they have already run 41 plays. LSU has one first down and is 0-for-5 on third down. And while its defense is deep, LSU needs its offense to give the unit a rest.
Jefferson needs to be moved around more in the pocket so he can create plays both with his feet in the run game and through the air while rolling out. Receiver Reuben Randle has been a non-factor, and Jefferson has too often looked hesitant and not confident.
Alabama will get the football to start the second half.
Email dave.miller@nationalfootballpost.com or follow me on Twitter at Miller_Dave