September 28, 2011 -
Barry Dorey
LSU's Miles to the NFL?
Despite bringing a BCS national championship to LSU in 2007, Les Miles has always had his critics in Baton Rouge.
Sure, there have been moments in games throughout the years when his Tigers have looked a little unorganized. And Miles may be good for some unique and eyebrow-raising quotes once in awhile — or all the time.
Oh, and there was also that grass-eating incident.
But, overall, there's not many head coaches with a national championship on the resume. Or a 66–17 mark at an SEC school.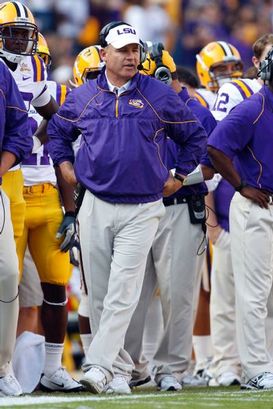 ICONLes Miles isn't always appreciated for the one thing he does best of all: win.
So it's understandable why Miles is an intriguing head-coaching candidate in NFL circles, according to Mike Freeman of CBSSports.com.
Of course, we've gone down the Miles-to-Michigan path twice already before the Wolverines hired Rich Rodriguez and Brady Hoke. But the subject of the pro game hasn't really been brought up until now, at a time when Miles has his Tigers sitting atop the AP Top 25 poll after big wins over Oregon, Mississippi State and West Virginia — all three coming either on the road or at a neutral site.
While it's well too early to speculate on Miles' interest in the pro game, Freeman writes that league owners and general managers have been intrigued by the veteran college head coach, but the fact that Miles has always been perceived as a "goofball" with questionable "maturity" had always made them hesitant.
However, the former Oklahoma State head coach has reportedly become one of the hottest NFL head-coaching candidates, at least in the eyes of some team executives who believe that Miles could be the next Jimmy Johnson because of the belief that he can deal with the "21st-century player."
Johnson, of course, worked out pretty well for the Dallas Cowboys.
Miles' strong program-building background and ability to consistently win in the toughest conference in America has also impressed league execs. And speaking of the Cowboys, Miles actually spent two years as tight ends coach of America's team, so he has dealt with pro players in the past.
Not to mention the fact that he essentially coaches pro-level athletes with the Bayou Bengals.
Whether or not Miles would be successful at the next level — or whether he would even be interested in moving on from one of the best college gigs in the nation — remains to be seen. But unless he is able to deliver another BCS national championship to Baton Rouge, Miles will always have his critics. Hell, he still will have naysayers if the Tigers are celebrating a title in January.
However, Tigers fans not enamored with Miles and his quirkiness should be careful what they wish for because there is always a new challenge awaiting these successful head coaches. And for the Mad Hatter, the only challenge that remains takes place on Sundays — not Saturdays on college campuses.
Email dave.miller@nationalfootballpost.com or follow me on Twitter at Miller_Dave