July 02, 2011 -
Barry Dorey
Lyles: Oregon paid for 'access and influence with recruits'
Chip Kelly likely isn't resting easy this Fourth of July weekend.
Since it was revealed on June 20 that Oregon's payment of $25,000 to Willie Lyles essentially netted the Ducks an expired recruiting package, the only two explanations were that the school was ripped off by Lyles or that the coaching staff was getting something else in return for the cash — as in players getting influenced to come to Eugene.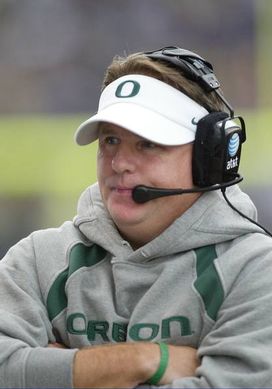 ICONOregon head coach Chip Kelly is certainly facing a long list of questions.
According to a Yahoo! Sports report on Friday, the Ducks didn't seem to get ripped off at all — and that's bad news for Kelly, his staff and the program.
Lyles told Yahoo that Oregon paid for his influence and access to players close to him, and not for scouting data as the school had maintained. Further, to justify the large payment, Lyles said that Kelly "scrambled" to get him to submit profiles of old recruits.
"I look back at it now and they paid for what they saw as my access and influence with recruits," Lyles said. "The service I provided went beyond what a scouting service should…I made a mistake and I'm big enough of a man to admit I was wrong."
This is clearly bad news for the Ducks, as the NCAA could find that Lyles had Oregon's interests in mind during the recruiting process, especially as it pertains to sophomore running back Lache Seastrunk. However, Lyles insisted that he didn't funnel prospects to Oregon and that the Ducks never asked him to direct a player to Eugene.
"Never. It wouldn't make sense for me to help one school," he said, per the report. "I was trying to get every school to buy my service. That was my business."
According to NCAA bylaw 13.02.14, a representative of athletic interests is defined as someone 'who is known [or who should have been known] by a member of the institution's executive or athletics administration to be assisting or to have been requested [by the athletics department staff] to assist in the recruitment of prospective student-athletes.'"
Will the NCAA find that Lyles' relationship with Seastrunk and other top recruits, including Ducks running back LaMichael James, falls into that category, thus putting Oregon in hot water? Lyles' role as mentor to prospects and paid contractor to Oregon is a major concern in this investigation.
The fact that Lyles admittedly doesn't care about NCAA rules should cause red flags to appear everywhere. According to the report, while he never believed he was doing anything wrong, he understands that lines by both parties may have been crossed.
And that should cause even more fireworks to go off this weekend in Eugene.
Email dave.miller@nationalfootballpost.com or follow me on Twitter at Miller_Dave