November 27, 2013 -
Dave Miller
Lynch delivers another Heisman-worthy performance
Subscribe to the "Against the Grain with Dave Miller" podcast in iTunes
By now, loyal readers of the NFP know how I feel about Jordan Lynch and his quest for the Heisman Trophy.
Last year before invitations were sent out for the ceremony in New York, I argued that the Northern Illinois quarterback deserved more recognition than he had received at that point. After all, he was the catalyst for a team that earned a trip to the Orange Bowl against Florida State.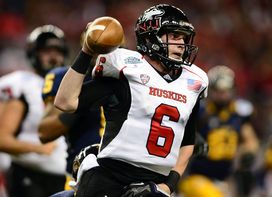 US PRESSWIREJordan Lynch broke his single-game FBS rushing record for QBs with 321 yards.
And last week before the Huskies battled Toledo at the Glass Bowl for a MAC West showdown, I wrote that the dual-threat signal-caller's second consecutive outstanding season was yet again going a bit under the radar because of there being a large number of quarterbacks in this year's Heisman mix such as Jameis Winston, Johnny Manziel, Bryce Petty and Marcus Mariota.
Without even taking into consideration the struggles last week of Manziel, Petty and Mariota, Lynch's talent and Heisman candidacy should be unquestioned right now.
The 6-foot, 216-pound Chicago native continued his quest for a spot in NYC on Tuesday night in DeKalb, as he broke his single-game FBS rushing record for quarterbacks with 321 yards to help the Huskies complete their first unbeaten regular season in 50 years with a 33-14 victory over Western Michigan. Lynch carried the football 27 times as he topped his previous record of 316 yards, which was set on October 19 against Central Michigan. He had touchdown runs of 29, 36 and 37 yards, and he also threw a 10-yard scoring pass.
Lynch has been a beast on the ground throughout his career, and up until Tuesday night no performance was more impressive than his rushing effort against CMU earlier this season. But he managed to top that against the Broncos despite sharp winds and some light snow against WMU and first-year head coach P.J. Fleck, who helped recruit Lynch to Northern Illinois, to extend the nation's longest active home winning streak to 26 games.
Ten times this season Lynch has rushed for at least 80 yards, and seven times he has eclipsed the 100-yard mark on the ground. Six times he has scored multiple rushing touchdowns in the same contest, and he has even managed to catch a touchdown this fall, becoming the first player since Ohio's Boo Jackson in 2010 with two passing touchdowns, a rushing touchdown and a receiving touchdown in the same game. On the season, he has found the end zone 20 times on the ground.
Lynch has not just been an impressive runner, however. He has become an improved passer (despite his numbers in the tough conditions Tuesday night). While he may not project to be a franchise quarterback at the next level, he is playing his best football at any point of this season, particularly in his past six games. He has thrown just one interception since tossing two picks in a game on October 5 and has 22 touchdown passes this fall. And while there are skeptics about Lynch's play because of the non-AQ competition in the MAC, Lynch led the Huskies to road wins over Iowa and Purdue. And it's unfair to dismiss the wins over those Big Ten programs, especially when Lynch tossed six touchdowns against no interceptions in those games.
Last year, Lynch was underappreciated despite breaking Denard Robinson's single-season rushing record by a quarterback and helping lead his team to a school-record 12 wins in a row. While he may be getting some more Heisman recognition this time around, he showed Tuesday night in DeKalb that an invite to the ceremony honoring the most outstanding player in college football should unquestionably be on its way.
Dave Miller, the college football editor and writer for the National Football Post, is on Twitter @Miller_Dave.