November 20, 2013 -
Dave Miller
Lynch gets the Heisman weeknight spotlight again
Subscribe to the "Against the Grain with Dave Miller" podcast in iTunes
It's certainly a bit depressing that the end of the college football regular season is approaching.
However, one of the best things about November football is the abundance of weeknight games, which typically involve a plethora of MAC teams.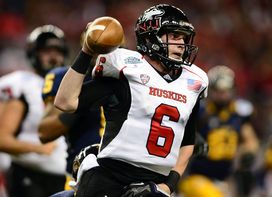 US PRESSWIREThis season, Jordan Lynch became the first player since 2010 with two passing touchdowns, a rushing touchdown and a receiving touchdown in the same game.
And that is the case Wednesday night at the Glass Bowl, where BCS hopeful Northern Illinois (10-0, 6-0 MAC) travels to Toledo (7-3, 5-1 MAC) in a West division showdown. And, of course, it's another opportunity for the nation to see Huskies star dual-threat quarterback Jordan Lynch, who is having yet another outstanding season.
I made the case last year at the NFP that Lynch was deserving of an invite to New York for the Heisman Trophy ceremony after being the catalyst for a team that earned a trip to the Orange Bowl against Florida State. And, despite there being a large number of quarterbacks in this year's Heisman mix such as Jameis Winston, Johnny Manziel, Bryce Petty and Marcus Mariota, Lynch deserves similar recognition because his talent is unquestioned. And most every football fan can see it.
The 6-foot, 216-pound Chicago native has been a beast on the ground throughout his career as the starting signal-caller in DeKalb, and no performance was more impressive than his 316-yard, three-touchdown effort on the ground against Central Michigan earlier this season. The rushing-yard total was an FBS record for a quarterback. Eight times this season he has rushed for at least 80 yards, and five times he has eclipsed the 100-yard mark on the ground. Four times he has scored multiple rushing touchdowns in the same contest, and he has even managed to catch a touchdown this fall, becoming the first player since Ohio's Boo Jackson in 2010 with two passing touchdowns, a rushing touchdown and a receiving touchdown in the same game.
But Lynch has not just been an impressive runner. While he may not project to be a franchise quarterback at the next level, Lynch is playing his best football at any point of this season, particularly in his past four games. He has thrown just one interception since tossing two picks in a game on October 5, and he has thrown seven touchdown passes and completed 76 percent of his throws in the last three games. While a lot of naysayers like to cite the non-AQ competition in the MAC for some of Lynch's gaudy numbers, keep in mind that he led the Huskies to road wins over Iowa and Purdue. And while the Hawkeyes and the Boilermakers won't be confused for SEC schools any time soon, it's unfair to dismiss wins over Big Ten programs, especially when Lynch tossed six touchdowns against no interceptions in those games.
Much like his team last year when it earned its spot in Miami, Lynch was underappreciated in 2012 despite breaking Denard Robinson's single-season rushing record by a quarterback and helping lead his team to a school-record 12 wins in a row. While he may be getting some more Heisman recognition this time around, he will have a chance Wednesday to garner even more support.
It is likely that when the Heisman finalists are announced later this season, Lynch's season won't be rewarded with an invite to the Big Apple. But with the award designed to go to the most outstanding player in college football, Lynch's resume certainly does stack up with the best.
Dave Miller, the college football editor and writer for the National Football Post, is on Twitter @Miller_Dave.