August 13, 2014 -
Dave Miller
Mark leaving Northwestern
Venric Mark is leaving Northwestern, the school announced in a release early Wednesday evening.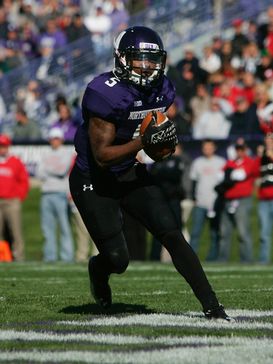 US PRESSWIREVenric Mark is leaving Evanston.
The star running back/kick returner, who was suspended for the first two games of the season for an undisclosed violation of team policy, has decided to transfer for "personal reasons, with a desire to play football this season closer to family." He is a Houston native.
"Northwestern has been an indescribable experience for me," Mark said in the release. "It has been my home for four years, and has molded me into the man I am. I'm one class shy of the Northwestern degree I've worked so hard for, and I will graduate. I'm devastated to leave my second home, but life is full of challenges and I've been presented with another one. Right now this is what is best for me and my family."
"Today is a difficult day for our football family and, most importantly, for Venric," head coach Pat Fitzgerald said in the release. "We love him, and there is no doubt that we're going to miss him as both a person and player. But this is unquestionably what is best for Venric and those closest to him."
Mark was scheduled to miss the team's season opener against California and the following week's game against Northern Illinois, both of which are at home. The senior's transfer seemingly comes out of nowhere.
The exciting playmaker ran for more than 1,000 yards and was an All-American punt returner in 2012 but missed most of last season with a variety of injuries. He earned a medical hardship and a fifth year of eligibility from the NCAA, but that will not be used for the Wildcats. Treyvon Green is expected to be the starter at running back for the 'Cats, while it is unknown whether or not Mark will be eligible to play this season.
Northwestern also announced early Wednesday evening that wide receiver Christian Jones suffered a season-ending knee injury. He could redshirt and return next season.
Dave Miller, the college football editor for the National Football Post, is on Twitter @Miller_Dave.