March 02, 2013 -
Dave Miller
Maryland offense is about to get Young
Maryland's quarterback situation in 2012 was nothing short of disastrous.
After losing former ACC newcomer of the year Danny O'Brien via a transfer to Wisconsin, the Terrapins turned to C.J. Brown, who provided the program hope because he was solid after being inserted into the lineup in 2011 when O'Brien struggled.
But Brown tore his ACL shortly before the season opener, forcing head coach Randy Edsall to hand the offense over to true freshman Perry Hills.
However, Hills was eventually lost for the season to a torn ACL just as he was starting to get more comfortable under center after a bit of a rough start. And the bad news didn't end there.
Devin Burns, who replaced Hills after seeing most of his time as a reserve receiver, was also shelved for the season after suffering a Lisfranc injury. His replacement, true freshman Caleb Rowe, became the fourth signal-caller to be lost for the year when he tore his ACL. With the bizarre situation under center becoming out of control for the Terps, Edsal was forced to turn to Shawn Petty, a 240-pound linebacker who ran an option attack in high school. The Terps were out of true quarterbacks on their roster.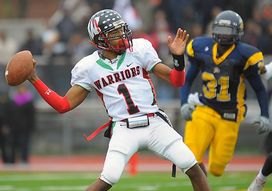 Ricardo Young is finally eligible to play after sitting out the last two years.
But there is newfound hope in College Park as the Terps begin spring practice on Saturday.
Ricardo Young, who sat out the 2011 and 2012 seasons after transferring from Virginia Tech to New Mexico, then Iowa Western Community College and finally to Maryland, is the leader to take over the Terps' offense next fall. The 6-1, 180-pound Class of 2010 product is familiar with the offense because offensive coordinator Mike Locksley was Young's head coach at New Mexico. The Lobos ran a pro-style system that is similar to the one currently being run in College Park. And Young has a familiar face on the field, as well, with junior-college All-American wide receiver Deon Long arriving at Maryland after being Young's teammate at both New Mexico and Iowa Western.
Young's ascension up the depth chart symbolizes a new trend in College Park under Edsall: early playing time for the state's best recruits, as the Woodson High School product was a former Washington D.C. Gatorade Player of the Year. Former local star Stefon Diggs fits that bill as well after his success last season as a true freshman.
Of course, C.J. Brown is still on the team, but he is still limited after his injury. Thus, Young will get the majority of the reps and have a chance to establish himself as the leader of the offense with a strong spring.
Young has dealt with a lot of adversity throughout his various transfers and an injury, so he will certainly be used to a competitive battle for the starting job once Brown gets healthy.
And, for once, Edsall finally has a good problem on his hands at the quarterback position, which he certainly didn't have in an injury-ravaged 2012 campaign.