March 01, 2012 -
Dave Miller
Maryland president: '2-10 is not a record [we] like'
It would be an understatement to say that Randy Edsall has had a rough start to his Maryland career.
The latest PR disaster was his handling of former Terrapins starting quarterback Danny O'Brien's scholarship release. And O'Brien was just the latest one of more than 20 players who have left since Edsall arrived in College Park.
But the biggest black mark against Edsall was finishing 2-10 in his debut campaign just a year after former Terps head coach Ralph Friedgen went 9-4 before being asked to leave town.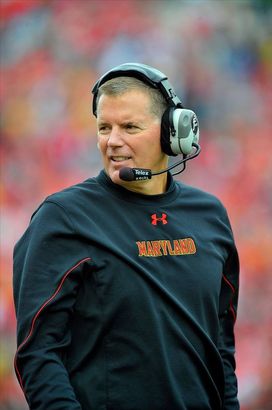 ICONRandy Edsall went 2-10 in his first season in College Park.
All of the off-the-field drama and poor play on the gridiron have many Maryland fans wondering if Edsall will get the Turner Gill treatment: out after just two seasons at his new school.
University president Wallace D. Loh discussed the state of the Terps with Kevin Cowherd of the Baltimore Sun, and Loh's comments didn't exactly take Edsall off of the hot seat.
When he was asked about Edsall's performance thus far, he gave what Cowherd described as "a very long pause" before delivering his comments.
"Well, he's our coach," Loh said. "And, uh, I think he has some very, very positive qualities. He is very interested in the student's success, as is Kevin Anderson. First and foremost, when I hired Kevin Anderson, I made it clear: we're in big-time athletics, but among student-athletes, the welfare of the student comes first. They must graduate, they must acquire the kinds of skills that will make them successful in life, because the vast majority are not going into professional athletics.
"Having set those broad parameters...2-10 is not a record any of us likes. But on the other hand, it takes time to have a winning program. But I remain hopeful and supportive of both of them that they can turn the program around and have a winning program, while still abiding by those values."
It certainly sets up for a very interesting year for the Terps under Edsall, who has brought in new coordinators on both sides of the ball. Mike Locksley will run the offense, installing a pro-style with some spread variations, while Brian Stewart will oversee the defense.
Email dave.miller@nationalfootballpost.com or follow me on Twitter at Miller_Dave