July 27, 2010 -
Dave Miller
Masoli may be fit for Nutt, Ole Miss after all
Early last week when Ole Miss head coach Houston Nutt denied any interest in pursuing former Oregon quarterback Jeremiah Masoli, it appeared that the former Duck would have to look elsewhere to resume his playing career.
Perhaps that's not the case after all.
According to a report in The Commerical Appeal, Nutt confirmed Monday that Masoli, who was kicked off the Ducks team June 9 after his second run-in with the law in six months, sent the SEC school his scholarship release papers from Oregon.
Confirming via text message, Nutt wrote that Masoli "e-mailed us his release as I'm sure he did to several schools."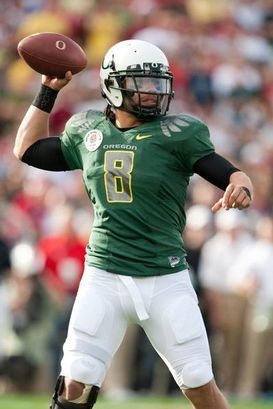 ICONWill Jeremiah Masoli be moving onto the SEC?
While Ole Miss at first seemed like a reach destination for Masoli, playing for the Rebels has emerged as a distinct possibility with the news Saturday that redshirt freshman Raymond Cotton, the No. 2 quarterback on the Ole Miss depth chart, announced he was leaving the team. Sophomore Nathan Stanley and junior college transfer Randall Mackey are the only two signal-callers currently on scholarship.
When the paper sent a follow-up text to Nutt regarding interest in pursuing Masoli, Nutt replied, "Checking all avenues. I anticipated Jevan's (Snead) departure (leaving school after his junior season for this past April's NFL draft), but (Raymond) Cotton's really puts us in a bind. Will let you know if I get serious with Masoli."
Cotton, who threw for 178 yards and two touchdowns in the Rebels' spring game despite playing with a partially torn labrum in his throwing shoulder, seemingly felt that he wouldn't be able to move ahead of Stanley. Now, Nutt almost certainly has to make some type of move at quarterback, where Mackey — who wasn't even on campus for spring practice — becomes the backup. If Stanley goes down with injury, the Rebels could be in store for a disastrous campaign.
Last week, Steve Andress of KEZI News reported that Masoli did indeed finish his studies at Oregon, which makes him eligible to enroll in a grad program at another school and be available to play in the fall. Speculation has been building in recent weeks where Masoli will land in 2010, as the overwhelming sentiment is that he intends to play this fall rather than sit out a year.
It would be interesting to see if interest in the former Duck would be any different if he came out publicly and declared that he would sit out a full season. Would he be a more appealing risk for coaches at major programs if they knew he could sit a full year, thus not altering a team's plans as we approach August?
As of now, it doesn't look like that's a realistic possibility, making the situation at Ole Miss so intriguing, especially with the void in experience at the position.
Besides the off-the-field drama, the fact that Masoli only has one year of eligibility remaining looms as the biggest factor for any coach interested in bringing him into the fold. In terms of team chemistry, how would it look if a stranger to the entire program is brought in mere weeks before the season begins and thrust into a quarterback competition? And keep in mind that Masoli would not come to Oxford to be a backup. Would there be a division within the team between those who back Stanley and Masoli supporters?
Masoli certainly exudes starpower. But he also brings plenty of risk.
Will Nutt decide that he is ultimately worth it?
Follow me on Twitter at Miller_Dave
Ready for fantasy football? Click here to purchase the 2010 Total Access Pass/Draft Guide from the NFP.