August 17, 2012 -
Dave Miller
Mathieu to remain in drug rehab
Former LSU star and 2011 Heisman Trophy finalist Tyrann Mathieu will not focus on landing with an FCS football team this fall or returning to the classroom in Baton Rouge and instead will remain at a drug rehab center in Houston for the near future, according to FOX 8 Sports in New Orleans.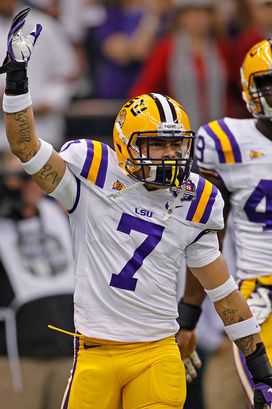 US PRESSWIRETyrann Mathieu will remain in rehab and not play football in 2012.
Mathieu and his family have been in deep-think mode regarding his future for the past week, but together they decided that it is in the best interest of the Honey Badger to remain at the Right Step recovery center in Houston instead of returning to classes at LSU or any other college.
Tyrone Mathieu, the cornerback's father, told FOX 8 Sports that he and Tyrann agree that he won't be successful in his next step in life unless he takes care of his current personal demons. The family believes that a future football career will eventually take care of itself.
Former NBA star John Lucas is currently mentoring Tyrann on a daily basis. Of course, Lucas was felled by a cocaine and alcohol addiction before completing rehab and becoming an NBA head coach. He will help determine when Tyrann is ready to leave and return to New Orleans.
Let's hope that the Honey Badger is able to conquer his demons and resume his football career in the not-so-distant future.
Email dave.miller@nationalfootballpost.com or follow me on Twitter at Miller_Dave