December 28, 2012 -
Dave Miller
McCoy and Hicks reportedly involved in Texas sexual-assault case
Texas head coach Mack Brown announced Friday that two players had been sent home from the team's trip to the Alamo Bowl in San Antonio following a police investigation into allegations of a sexual assault at a hotel.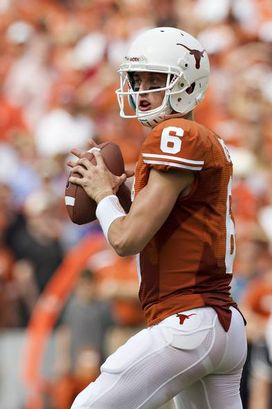 Case McCoy is reportedly one of two players who has been sent home from the Alamo Bowl.
While Brown did not name the players and would not answer questions about the incident, Hookem.com is reporting that linebacker Jordan Hicks and quarterback Case McCoy are the two players who have been suspended from the team for violating team rules.
According to a San Antonio police report, cops were called to a hotel early Friday morning in response to an alleged sexual assault involving a 21-year old female who said she had been drinking at a club and had invited two players back to her hotel room. She apparently suffered bruising on her knee and biceps, and she was taken to a nearby hospital.
The investigation is still ongoing, and no charges have yet to be filed.
Hicks was not going to play in the Alamo Bowl because of a hip injury, while McCoy was the backup to starter David Ash.
The Longhorns play Oregon State on Saturday night.