April 04, 2011 -
Dave Miller
McCoy shines in Texas' spring game
Texas held its annual Orange-White spring game on a windy day in Austin on Sunday before an announced crowd of 45,000 at Royal-Memorial Stadium, debuting a new offense led by first-year co-coordinator Bryan Harsin, who developed some of the best units in the country during his five seasons at Boise State. After more than a decade of running the same offense, head coach Mack Brown decided to change things up following the team's disappointing 5-7 campaign. Among the major changes on offense, Harsin replaced longtime coordinator Greg Davis, Stacey Searels arrived to coach the offensive line and Darrell Wyatt came aboard to coach the team's receivers.
With the game being televised on ESPN3, the nation was able to see Harsin's new versatile scheme, which can feature not only two-back sets but also plays involving four and five receivers in an up-tempo, no-huddle style. Pre-snap motions and a pocket full of trickery? Harsin's arsenal was on display and expect it to continue as the 'Horns enter a new era of football.
With that in mind, let's take a look at some spring game notes and see how the new scheme fared.
Is Gilbert done as the starting QB?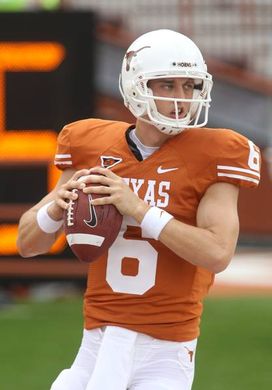 ICONCould Case McCoy follow in his older brother's footsteps and lead the Texas offense?
Incumbent Garrett Gilbert, who led the nation's No. 88 scoring offense in 2010, finished Sunday's game 8 of 15 through the air for 76 yards and an interception — an underthrown pass into double coverage. On his team's next possession, he threw three straight incompletions. Gilbert then led a 15-play drive at the end of the first half that reached the 2-yard line with 16 seconds left. However, his unit had to settle for a 28-yard field goal.
What's most notable from the game is that Gilbert was outplayed by Case McCoy, the younger brother of former Longhorns great Colt McCoy. McCoy, who threw only one pass as the No. 2 signal caller last year, was the offensive standout on Sunday, making a push for the starting job by completing 9 of 11 through the air for 124 yards and a touchdown to walk-on receiver Patrick McNamara. What was most impressive is that his work occurred with the second-team offense against the first-team defense as well as the fact that he was working behind an offensive line that was thrown together due to injuries and youth. He also recorded the longest pass of the day when he connected with Mike Davis for a 30-yard completion.
Connor Wood and David Ash also took snaps with the first-team offense. Wood connected on 8 of 14 through the air for 82 yards while Ash completed 2 of 3 for five yards. None of the signal callers were made available to the media after the scrimmage.
Head coach Mack Brown knows that a decision must eventually be made at quarterback, but he told reporters that the staff doesn't think anyone is ready to assume the starting gig as of now because it's a complicated scheme.
"We're not going to evaluate them until the fall. We're really not," Brown said. "We're not going to walk out of here tomorrow morning and say, 'This guy is going to be the starting quarterback.' You think we are. We're not.
"Because we really don't think anybody is ready to take over at this point."
But which signal caller has the edge?
After Sunday's showcase, McCoy clearly is the leader heading into fall camp — no matter Gilbert's experience factor. Keep in mind that Gilbert threw 17 interceptions last season, so taking care of the football is the biggest concern for him. In addition to the bad pick he did throw, he also had a near-interception in the end zone on his first drive, but the defensive back dropped the ball.
Will the Longhorns be able to run the ball effectively?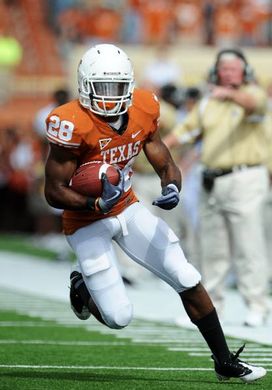 ICONAll eyes will be on Fozzy Whittaker and the Longhorns' rushing attack.
Brown continues to stress the fact that he wants his team to run the football more consistently, so Harsin will dial up plenty of power runs, often starting with pre-snap motion to confuse the defense.
In the game on Sunday, Texas' collection of running backs didn't instill much confidence that the ground game will be any more effective than it was last season. Fozzy Whittaker and Cody Johnson did manage to combine for 63 yards on 10 carries, but their team averaged just 3.6 yards per carry overall. On the losing side, the top two backs managed just one yard on nine carries. No rush for either squad went further than 15 yards.
Brown thought the first-team offensive line played well but the backup unit was hampered by the fact that there were only eight healthy players available as the team battled health issues throughout the spring.
When the regular season rolls around, however, this backfield will have no excuses. For the Longhorns to return to the top of the Big 12 standings, a sound rushing attack will be needed — especially with questions under center.
Other Notes
Texas' new television network was officially branded as "Longhorn Network," and its name and logo were released before the game.
How did new coordinator Manny Diaz's defense look? The former Mississippi State DC lived up to his reputation of having units that pressure the quarterback, as the defense recorded 10 sacks despite playing mostly in its base. Alex Okafor had four of the takedowns.
Email dave.miller@nationalfootballpost.com or follow me on Twitter at Miller_Dave