February 07, 2011 -
Dave Miller
Meet the 2011 PARADE All-America team
For the last 48 years, PARADE magazine has selected the top high school football players in America.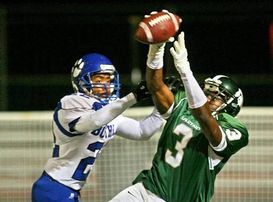 Washington-bound WR Kasen Williams
This year, with the help of Sporting News, the publication chose 53 seniors from 22 states, with the All-American team being based on both the player's senior year success and his potential to play big-time college football.
The PARADE Player of the Year is wide receiver Kasen Williams, who played in four state championship games at Sammamish Skyline High School in Washington. Williams is the career record-holder at Skyline with 232 receptions, 4,121 yards and 56 touchdowns. This season, he broke single-season numbers in all three stats, with 86 receptions, 1,579 yards and 21 touchdowns.
Here is the 2011 PARADE All-America team, including where each player plans to attend college.
OFFENSE
Johnny Manziel, QB Tivy Kerrville, Tex. 6'1" 195 Texas A&M
Mike Bellamy, RB Charlotte Punta Gorda, Fla. 5'11" 180 Clemson
Malcolm Brown, RB Steele Cibolo, Tex. 6'1" 220 Texas
Dee Hart, RB Dr. Phillips Orlando, Fla. 5'8" 185 Alabama
Trey Metoyer, WR Whitehouse Whitehouse, Tex. 6'2" 200 Oklahoma
Kasen Williams, WR Skyline Sammamish, Wash. 6'2" 210 Washington
Brian Bobek, OL Fremd Palatine, Ill. 6'2" 285 Ohio State
La'el Collins, OL Redemptorist Baton Rouge, La. 6'5" 285 LSU
Cyrus Hobbi, OL Saguaro Scottsdale, Ariz. 6'4" 285 USC
Cyrus Kouandjio, OL DeMatha Hyattsville, Md. 6'7" 295 Undecided
Brandon Shell, OL Goose Creek Goose Creek, S.C. 6'7" 290 South Carolina
Jabriel Washington, ATH Trinity Christian Academy Jackson, Tenn. 5'11" 175 Alabama
Kyle Brindza, K Plymouth Canton, Mich. 6'2" 215 Notre Dame
DEFENSE
Anthony Johnson, DT O. Perry Walker New Orleans, La. 6'4" 300 LSU
Viliami Moala, DT Grant Union Sacramento, Calif. 6'3" 335 UC/Berkeley
Jadeveon Clowney, DE South Pointe Rock Hill, S.C. 6'6" 250 Undecided
Ray Drew, DE Thomas Co. Central Thomasville, Ga. 6'5" 255 Georgia
Stephone Anthony, LB Anson Wadesboro, N.C. 6'3" 220 Clemson
Lamar Dawson, LB Boyle County Danville, Ky. 6'2" 230 USC
Curtis Grant, LB Hermitage Henrico, Va. 6'3" 220 Ohio State
C.J. Johnson, LB Philadelphia Philadelphia, Miss. 6'3" 227 Mississippi
Demetrious Nicholson, DB Bayside Virginia Beach, Va. 5'10" 170 Virginia
Brian Randolph, DB Kell Marietta, Ga. 6'0" 180 Tennessee
Brandon Swindall, DB Millwood Oklahoma City, Okla. 6'4" 180 Undecided
David Glidden, ATH Mustang Mustang, Okla. 5'8" 160 Oklahoma State
REST OF THE ROSTER
Kiehl Frazier, QB Shiloh Christian Springdale, Ark. 6'3" 215 Auburn
Marquise Williams, QB Mallard Creek Charlotte, N.C. 6'3" 218 North Carolina
Justin Worley, QB Northwestern Rock Hill, S.C. 6'4" 200 Tennessee
Jay Ajayi, RB Liberty Frisco, Tex. 6'1" 200 Boise State
Amir Carlisle, RB The King's Academy Sunnyvale, Calif. 5'11" 185 USC
Jeremy Hill, RB Redemptorist Baton Rouge, La. 6'1" 215 Undecided
Valdez Showers, RB Madison Madison Heights, Mich. 6'0" 185 Florida
George Farmer, WR Junipero Serra Gardena, Calif. 6'2" 190 USC
Marqise Lee, WR Junipero Serra Gardena, Calif 6'1" 190 USC
Chris Moore, WR Jefferson Tampa, Fla. 6'2" 180 Cincinnati
Richard Mullaney, WR Thousand Oaks Thousand Oaks, Calif. 6'3" 190 Oregon State
Ben Koyack, TE Oil City Oil City, Pa. 6'5" 235 Notre Dame
Austin Blythe, OL Williamsburg Williamsburg, Iowa 6'3" 280 Iowa
Brey Cook, OL Har-Ber Springdale, Ark. 6'7" 305 Arkansas
Reese Dismukes, OL Spanish Fort Spanish Fort, Ala. 6'3" 290 Auburn
Todd Barr, DE Lakewood Lakewood, Calif. 6'3" 250 Berkeley
Anthony Chickillo, DE Alonso Tampa, Fla. 6'3" 235 Miami
Dillon van der Wal, DE Oaks Christian Westlake Village, Calif. 6'7" 245 Undecided
Ishaq Williams, DE Lincoln Brooklyn, N.Y. 6'6" 240 Notre Dame
Tim Jernigan, DT Columbia Lake City, Fla. 6'2" 285 Florida State
Gabe Wright, DT Carver Columbus, Ga. 6'3" 290 Auburn
Serderius Bryant, LB Seminole Sanford, Fla. 5'10" 210 Mississippi
Steve Edmond, LB Daingerfield Daingerfield, Tex. 6'3" 235 Texas
Ben Kline, LB Dallastown Dallastown, Pa. 6'3" 225 Penn State
Lateek Townsend, LB Marlboro County Bennettsville, S.C. 6'2" 210 Clemson
Darion Arrington, DB Stone Wiggins, Miss. 6'2" 200 Mississippi State
Dallas Crawford, DB South Fort Myers Fort Myers, Fla. 5'10" 185 Miami
Chris Hackett, DB John Tyler Tyler, Tex. 6'1" 185 Texas Christian
Email dave.miller@nationalfootballpost.com or follow me on Twitter at Miller_Dave
Want to work in the NFL? Click here to sign up for the NFP's "Chalk Talk at the Combine" Seminar February 25 in Indianapolis.