January 21, 2011 -
Dave Miller
Meet the best player in America, Jadeveon Clowney
In case you're not familiar with Jadeveon Clowney, he's the nation's No. 1 high school prospect in the Class of 2011. And if you're a college football fan, you better get used to hearing his name the next couple of weeks.
The South Pointe High School (Rock Hill, S.C.) defensive end, who was the 2010 USA TODAY Defensive Player of the Year, is the most targeted player by major-college coaches on the recruiting trail. However, we likely won't find out which college Clowney plans to attend on National Signing Day.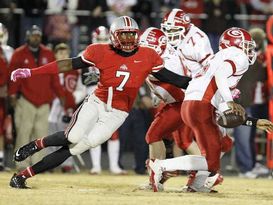 Jadeveon Clowney is the nation's No. 1 high school prospect in the Class of 2011.
According to South Pointe athletic director Michael Drummond, Clowney probably will wait until his birthday, Feb. 14, to sign with the college of his choice.
This is nothing new for a top high school prospect such as Clowney, who has a few more college visits scheduled and is waiting for his first-semester grades. Other top players in the past have dragged out the process, opting to wait on selecting a college until after National Signing Day, which is Feb. 2.
Clowney did, however, narrow his list of finalists to Miami, Florida State, Alabama, South Carolina and LSU.
The 6-6, 260-pounder, who possesses a 36-inch vertical leap and 4.5 speed in the 40-yard dash, racked up 306 tackles and 52.5 sacks over the last two seasons. Yes, those numbers are correct.
Check out the best of Clowney from his senior year at South Pointe. The highlights include play from the regular season and playoffs, including the 3A state title game.
Video is courtesy of AthleteVault.com
Email dave.miller@nationalfootballpost.com or follow me on Twitter at Miller_Dave
Want to work in the NFL? Click here to sign up for the NFP's "Chalk Talk at the Combine" Seminar February 25 in Indianapolis.