February 03, 2012 -
Dave Miller
Meyer to critics: 'We'll do it a little harder next time'
The Urban renewal at Ohio State isn't sitting too well with a couple of fellow Big Ten coaches and their staffs.
But Urban Meyer isn't letting up anytime soon on the recruiting trail.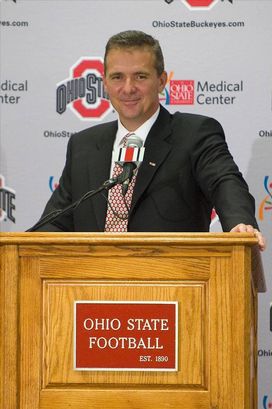 ICONUrban Meyer's recruiting prowess is stirring things up in the Big Ten.
After hearing the complaints of Wisconsin's Bret Bielema and Michigan State's Mark Dantonio about his recruiting methods, the Buckeyes head coach maintained that he isn't changing how he goes about his business, making his feelings known at an Ohio High School coaches clinic on Friday morning.
"You're pissed because we went after a committed guy? Guess what, we got nine guys who better go do it again," Meyer said. "Do it a little harder next time."
Meyer was able to bring in 10 new recruits to the Buckeyes once he took over the program. Of the 10, eight had previously committed to other schools, including offensive tackle Kyle Dodson and defensive end Se'Von Pittman. Dodson and Pittman were committed to Wisconsin and Michigan State, respectively. One of the nation's top defensive tackles, Tommy Schutt, also came aboard after originally committing to Penn State.
Both Bielema and Dantonio are proponents of a supposed "gentleman's agreement" within the Big Ten that states that coaches aren't supposed to go after another coach's commits while recruiting. Bielema apparently will have his athletic director, Barry Alvarez, discuss the issue with Big Ten commissioner Jim Delany.
Of course, Meyer wasn't familiar with such an agreement in the rigorous SEC while recruiting at Florida.
Interestingly, at the same clinic for Ohio high school coaches, Michigan head coach Brady Hoke was asked about going after a recruit who was already verbally committed to another school. He didn't seem to think it was such a big deal.
"Well, it's competitive. That's what it is," Hoke told Matt Barnes of NBC4 in Columbus. "There's no NCAA legislation about [recruiting a player committed to another school]. I think, at times, we've had guys who have left us late in the recruiting [process]. But, you know, it's part of it. For us, you want to do a great job of holding on to them and all those things. It's recruiting. It's competitive."
And those words came from the head coach of Ohio State's biggest rival. Go figure.
Email dave.miller@nationalfootballpost.com or follow me on Twitter at Miller_Dave