August 13, 2013 -
Dave Miller
Miami may be the nation's most dangerous team
While we do not yet know if Miami (FL) will be returning to the postseason this season after self-imposing bowl bans the last two years, at this point it would be very surprising if the NCAA hands down a postseason ban to the Hurricanes in 2013.
So assuming Al Golden's squad is eligible for the postseason, how good could the 'Canes be this fall?
Last season, Golden fielded one of the younger teams in the nation against one of the country's toughest schedules. And while the 'Canes took their lumps, there is a lot to be excited about in Coral Gables this year.
Taking into consideration how Golden has been able to accumulate a strong crop of talent in the last few recruiting cycles and the same appears true for next February's haul, the talent level at Miami continues to rise under the leadership of Golden and his staff. And as we saw at Temple, Golden can flat-out coach.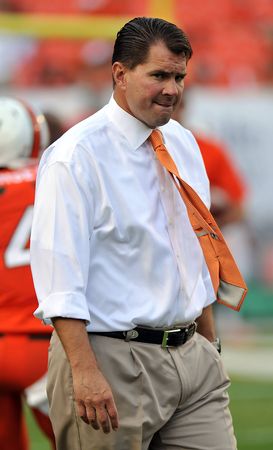 US PRESSWIREAl Golden has the 'Canes on the rise.
So while taking a glance at the Hurricanes' 2013 slate, it is not out of the question to believe that this team could be a surprise team on the national level. And it starts with the steadying hand of their head coach.
Golden has been able to sell not only the crop of Hurricanes he inherited but the high school players he was able to get pledged on the idea that the program was healthy despite the ongoing NCAA investigation. There's no question that Golden and his staff had to work extra hard because the program was facing negative recruiting since the Nevin Shapiro allegations came to light. The fact that Miami has been able to bring in players such as running back Duke Johnson, cornerback Tracy Howard, safety Deon Bush and linebacker Alex Figueroa in the face of such adversity speaks to the relentlessness yet calming influence of this staff. And while the NCAA investigation has yet to come to a conclusion, the vibe around campus has been positive.
Heading into the new season, the 'Canes will field one of the better offenses in the nation. Stephen Morris sometimes gets overlooked by players such as Teddy Bridgewater, Tajh Boyd and others, but the veteran quarterback has NFL scouts drooling over his immense talent. He finished the 2012 campaign very strong, tossing nine touchdowns and no interceptions in November. The signal-caller will be working behind an experienced offensive line, a good corps of receivers led by Phillip Dorsett, Rashawn Scott and Herb Waters as well as dynamic running back Johnson, who averaged 6.8 yards per carry and recorded 11 touchdowns as a freshman.
The major question mark for Miami -- and it's a huge one -- is whether a horrid defense can make a big jump at least toward respectability.
Coordinator Mark D'Onofrio has his hands full trying to improve a unit that allowed 30.5 points per game and ranked 97th in the FBS in yards per play allowed in 2012. While the team returns a lot of defensive starters, competition has been fierce for starting jobs, especially with the influx of younger talent.
The good news is that a lot of the players on defense were young last year, so a lot will be expected of sophomores such as Bush, Antonio Crawford and Rayshawn Jenkins this year. And keep an eye on Figueroa, the freshman linebacker who has impressed since spring ball after spending a year at prep school. He was a nice addition to Miami's recent class after not a lot of major programs showed interest.
While the team struggled against the run last year, perhaps Miami's best chance for improved overall play on defense will start up front with an improved pass rush, an area that Golden's squad struggled in last fall as well. With questions in the secondary, improving on their meager number of 13 sacks was an area of emphasis this offseason. Former Wisconsin defensive end David Gilbert could help if he is healthy, but a lot will be asked of top Class of 2013 product Al-Quadin Muhammad, who is being counted on to make a difference in his freshman campaign at defensive end.
Of course, Miami's sack leader from 2012, Anthony Chickillo, returns this season to anchor the line. The hope is that his veteran leadership and skill set can help lead a pass-rushing revival in Coral Gables. The help he could receive from Gilbert and Muhammad will be key to the hopes of the Hurricanes' defense of complementing what should be an explosive offense under new coordinator James Coley.
If Miami (FL) has any chance to play for the ACC championship this fall, the Hurricanes will need to get an improved effort from a defense that was woeful last season. Because the offense will score plenty of points.
While the 'Canes don't officially know if they can play for a postseason berth, Golden has his players believing that the future is bright in Coral Gables.
Dave Miller, the college football editor and writer for the National Football Post, is on Twitter @Miller_Dave.