March 04, 2011 -
Dave Miller
Miami spring practice preview
Miami kicks off spring practice on Saturday under the direction of new head coach Al Golden, who arrived in town after a five-year tenure at Temple.
Let's take a look at some of the key issues facing the Hurricanes as they get a jump on preparing for the 2011 season.
Who will start under center?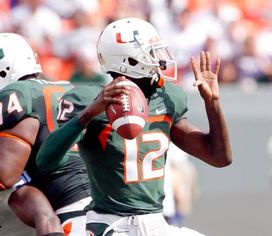 ICONWill Jacory Harris get the chance to start during his senior season?
When Jacory Harris is good, he's one of the most exciting players in the nation to watch. But when he's off, he's bad. Real bad. And too many times in the 2010 season, Harris made costly throws that resulted in interceptions. When he went down with a concussion, true freshman Stephen Morris stepped in and did an admirable job of running the offense, nearly leading the team to an incredible comeback over Virginia in his first action before notching back-to-back wins over Maryland and Georgia Tech. He also may have been the team's lone bright spot in the clunker against Notre Dame in the Sun Bowl. So despite the fact that Harris will be entering his senior season and the fact that he has started the last three season-openers for the 'Canes, all bets are off with a new staff in place. Any possible step in the right direction in getting this program back to national prominence begins and ends at the quarterback position. Golden has stated that Morris and Harris will compete throughout the spring with a possible decision coming after the team's spring game on April 16. And while Golden told the media on Thursday that rising senior Spencer Whipple will also get plenty of reps with the first team, he's certainly considered a longshot to win the job.
Cornering the market
No position has been hit the hardest than the cornerback spot following the departures of Ryan Hill, DeMarcus Van Dyke and Brandon Harris. The only corner on the roster with a good amount of experience is Brandon McGee, and he only has one start under his belt. Look for redshirt freshman Devont'a Davis, sophomore Kacey Rodgers and redshirt sophomore Jamal Reid to sit atop the unofficial spring depth chart. But with competition at every position under a new coach, several incoming freshmen may get a chance to contribute early, as well.
Is there still depth in the backfield?
While most programs would be concerned about losing quality running backs such as Graig Cooper and Damien Berry, new Hurricanes running backs coach Terry Richardson has to be excited about the backfield depth he'll have to work with this spring. The 'Canes return four players who received carries last season, with rising sophomore Lamar Miller and rising junior Mike James leading the way. Miller may start atop the depth chart but James should at least split carries. Rising sophomores Storm Johnson and Eduardo Clements are also in the mix after returning kickoffs and getting limited duty in the backfield last season.
Getting acclimated
Not only will the players have a new head coach to get familiar with this spring, but new coordinators Jedd Fisch and Mark D'Onofrio are in place as well. Fisch was formerly the quarterbacks coach of the NFL's Seattle Seahawks while D'Onofrio spent the past five seasons with Golden at Temple. One of the first things Fisch did upon arrival was introduce himself to the players by meeting with them individually in his office to get to know them on a personal basis and learn their backgrounds. This spring, he gets to see them up close on the practice field in his pro-style system.
Defensively, D'Onofrio will have two assistants who were with him and Golden at Temple, so the line of communication on the staff will be strong. Linebackers coach Michael Barrow was retained, so he'll continue to absorb D'Onofrio's system this spring. But the most important issue is how fast the players pick up the system. Once again the Hurricanes will have the athletes. But it will take time for everything to come together.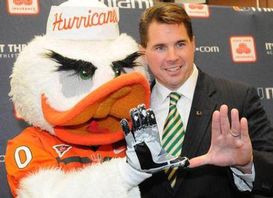 Al Golden has embraced the culture and history of The U.
It will be interesting to see how the Miami players fare during the early part of spring camp as they get used to Golden's intense practices. Some players previously told reporters that offseason workouts have become tougher and longer under the direction of the new staff. The earlier the Hurricanes can adjust to the work ethic, the more prepared they will be for the professional type of program Golden and his staff want to run.
Notes
— Joel Figueroa, who is expected to contend for a starting job on the offensive line, will not be allowed to participate in spring practice as he awaits an NCAA ruling on a possible sixth year of eligibility. He will, however, be allowed to work out with his teammates. The 6-6, 323-pounder played in three games last season, including two starts at right offensive tackle. If he is granted a sixth year, he is expected to compete for playing time at guard. Both of the team's starting guards, Harland Gunn and Brandon Washington, return from last season.
— Jersey number changes: Running back Storm Johnson has taken former cornerback Brandon Harris' No. 1 after wearing No. 24 last season; Wide receiver LaRon Byrd gave up Michael Irvin's old No. 47 and will now wear Graig Cooper's former No. 2; Receiver Tommy Streeter has switched from No. 86 to No. 8, previously worn by the speedy cornerback DeMarcus Van Dyke; Tight end and former offensive lineman Cory White will now wear No. 84 instead of No. 71; Jordan Futch is wearing No. 58 again after switching to tight end before the bowl game.
— In addition, it appears that linebacker Kevin Nelson will remain a Hurricane. There were questions whether the redshirt freshman was transferring.
Email dave.miller@nationalfootballpost.com or follow me on Twitter at Miller_Dave