August 16, 2011 -
Barry Dorey
Miami's Golden: Players 'may have made a mistake'
With NCAA investigators on campus to follow up on allegations made by former booster Nevin Shapiro, Miami head coach Al Golden says some of his players may have made mistakes while interacting with the convicted Ponzi schemer.
The first-year Hurricanes head coach proclaimed that he just became aware of the investigation into allegations that Shapiro gave more than a dozen former or current players gifts and services. Golden spoke to the media before Tuesday morning's practice.
"We're not going to let this knock us backward," Golden said, according to The Associated Press. "We have great kids on this team to the extent that they may have made a mistake. OK, that's fine. But that's also part of growing up. What we have to teach them now is if something did occur, let's be honest and move forward."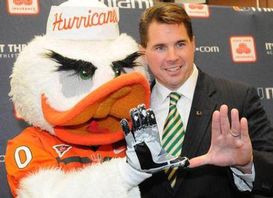 Did Al Golden walk into a big mess at Miami?
Golden said he emailed his players "every day this summer" to warn them about avoiding problems that occurred at other schools such as Ohio State.
"We've got to make sure the third parties stay away from our student-athletes," he said.
Investigators descended upon campus Monday after Shapiro and his attorney discussed the matter with the NCAA for a few months. The attorney said documentation to back up Shapiro's claims was provided during the discussion as well.
While Golden said athletic director Shawn Eichorst and president Donna Shalala were meeting with investigators, he didn't expect to be included in those discussions.
"It's hard for me to stand up here and defend something that occurred three, four, five, six years ago," Golden said. "I don't know the extent of it. We're going to look at it. We're disappointed, but we're not discouraged."
While Shapiro's relationship with the program dates back nearly a decade, some of the alleged incidents did occur within the past four years. That's even worse news for the Hurricanes because that falls within the NCAA's statute of limitations period regarding violations.
Miami officials noted that Shapiro made his allegations almost a year ago but refused to provide any facts at the time. The school released a statement Tuesday morning.
"The university notified the NCAA enforcement officials of these allegations," the school said in a statement. "We are fully cooperating with the NCAA and are conducting a joint investigation. The University of Miami takes these matters very seriously."
Email dave.miller@nationalfootballpost.com or follow me on Twitter at Miller_Dave