July 15, 2010 -
Dave Miller
Miami's Harris feared 'the worst' with thumb injury
Fans of the Miami Hurricanes will be happy to know that quarterback Jacory Harris insists that he will be completely healthy for the team's season-opener against Florida A&M on September 2.
But if you asked him his thoughts when he suffered the thumb injury on his throwing hand, you likely would not have liked his response.
Harris told The Associated Press that he feared "the worst" in the weeks following the injury — a torn ligament that required surgery six months ago. The Hurricanes repeatedly dismissed the injury as a minor one, but that obviously wasn't the case.
But while Harris continues his recovery, the signal-caller is unconcerned about his health for the 2010 season. His sole focus remains on improving every day.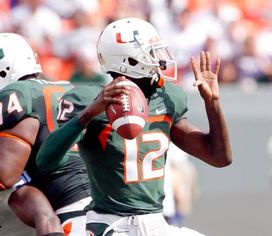 ICONMiami QB Jacory Harris hopes to lead the Hurricanes to a BCS berth.
"I can't be the same person from last year," Harris said. "I've got to strive to get better."
While he completed 242 of 406 passes for 3,352 yards and 24 touchdowns in '09, he also tossed 17 interceptions — the second-most in major college football.
But the issue with his thumb was a big factor, forcing him to use a variety of wraps, tape jobs and treatments, and prompting him to change his release while also dealing with problems gripping the ball.
"I thought it was just a jammed finger [at first]. But at the same time, it's football," he said. "That's how the game of football is played. I'm sure back in the days when helmets didn't have face masks, they weren't complaining about broken noses. I don't think I should complain about a finger."
Harris resumed throwing in late May and has been participating in drills with his wide receivers and 7-on-7 sessions as the team begins informal preparations for what the 'Canes hope is a BCS season. Harris' play will go a long way toward achieving that goal.
The Hurricanes open fall camp on August 5.
Nine days after its opener, Miami travels to Ohio State in a rematch of the national title game from the 2002 season.
Follow me on Twitter at Miller_Dave
Ready for fantasy football? Click here to purchase the 2010 Total Access Pass/Draft Guide from the NFP.