April 14, 2012 -
Dave Miller
Michigan spring game notebook
Michigan concluded spring practice with its annual spring scrimmage Saturday in Ann Arbor.
The Blue team beat the White squad 17-0 in the modified scrimmage. Head coach Brady Hoke didn't sound pleased in his postgame on-field interview or press conference on BTN, citing missed tackles and lack of pressure from his defensive line as two areas that need more work. However, the Wolverines finished the spring relatively healthy, which is always a plus.
Let's take a look at some notes from the scrimmage.
• Denard Robinson didn't see much action in the scrimmage, but the dual-threat became more of a determined, focused and vocal leader this spring. He worked on his mechanics and footwork this offseason and understands that he can't turn the ball over as much as he did last season. He had one botched exchange with the team's new center, so he still seems more comfortable in the shotgun.
Meanwhile, Fitzgerald Toussaint continued to run strong and was patient waiting for his blocks to develop. He will once again be the No. 1 back and be leaned on in the run game.
• The downhill mentality of backup running back Thomas Rawls led to a 21-yard touchdown run, and he added another short plunge later in the contest. He is an intriguing candidate to steal carries from Vincent Smith after battling some injuries last season. He has good vision and balance, especially between the tackles, and he could be a valuable asset so that Toussaint doesn't wear down.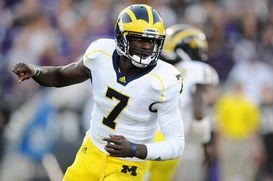 Devin Gardner still has a lot of work to do as a passer.
• Devin Gardner will see a nice portion of time on the field this season, but he needs to play well like he did in the road game last year against Northwestern. He was sacked by Jibreel Black on the first play of the scrimmage and intercepted by Blake Countess on his second. He has a good physique, strong arm and very good running ability, as he showed with numerous scrambles for chunks of yards Saturday. But has the game slowed down for him? He became a little more comfortable as the game progressed, checking down when necessary, but his accuracy still left a lot to be desired.
• Jeremy Gallon, a good possession receiver who can rack up yards after catch, saw a lot of looks early. Roy Roundtree is already established as the No. 1 receiver, and Hoke praised his improvement, so Gallon's play opposite him will be big for this offense. He had 31 catches last year and should see his numbers rise.
• Defensively, the exotic blitz packages and specially designed looks by coordinator Greg Mattison transformed the Michigan defense last season from a porous unit to one of the better ones in the nation. But can safety Jordan Kovacs and the Wolverines repeat their success of forcing turnovers? Craig Roh, who has made 38 consecutive starts since arriving in Ann Arbor, is moving from rush end to strongside end. He played well when he was on the field. As a whole, the defense didn't tackle great in the game, and Hoke expressed his disappointment in the postgame presser. On multiple occasions. He wants more pressure up front, especially inside, as he said they were "way too soft in the middle." On the positive side, early enrollee linebacker Joe Bolden was active and played well.
• Hoke said he wanted to get quarterback Russell Bellamy extended time because it would give him his first experience playing in Michigan Stadium. Bellamy showed his youth on many occassions, but Hoke was happy about getting him time. He wasn't happy about his command of the huddle, however.
Overall, a spirited spring effort from the Wolverines as we now look ahead to the September 1 season opener at Cowboys Stadium against Alabama. But, for every team in the country, there is still a lot of work to be done before kickoff in the fall.
Email dave.miller@nationalfootballpost.com or follow me on Twitter at Miller_Dave