March 18, 2011 -
Dave Miller
Michigan spring practice preview
Michigan (7-6, 3-5 Big Ten in 2010)
While much of the focus will center on first-year head coach Brady Hoke when Michigan opens spring practice on Saturday, the biggest question mark surrounding the Wolverines as they begin early preparations for the 2011 season will be whether their defense can rebound from the porous units fielded by Greg Robinson the last few seasons.
Enter Greg Mattison, the former Baltimore Ravens coordinator who is challenged with the task of making over a defense that endured three of the worst years in program history under Rich Rodriguez. Mattison, who was a fellow assistant with Hoke at Western Michigan and in Ann Arbor, is intent on moving on from the past, admitting that he didn't need to watch a whole lot of the film from last year to know that a fresh start was needed. Can a rigorous offseason in the weight room along with winter conditioning carry over to the spring and into next year?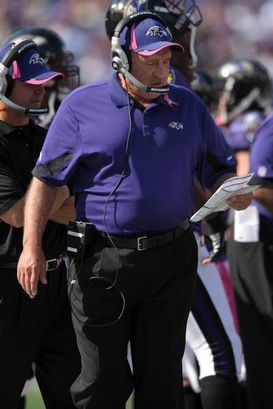 ICONGreg Mattison hopes the Michigan defense will be tougher in 2011.
The Wolverines clearly believe in their new defensive mastermind, giving Mattison a base salary of $750,000 — more than double any other Michigan assistant. What is certain is that Michigan fans will see an aggressive defense, with a priority on stopping the run. However, as every fan of the Maize and Blue is well aware of, allowing big plays — especially through the air — has been the Achilles heel of the unit in its recent decline.
Hoke said Mattison won't install too much of his scheme too soon this spring, but the effort on the road to improvement will continue in full.
"We're going to be smart about [spring practice]," Hoke told The Detroit News recently. "What we've done is, we've got the first five days of what we want to try to get in from a defensive standpoint. And then we'll look at it and see, 'Do they understand the concepts? Are we where we want to be with that? Are they playing fast?' Because that's a priority. If not (and it's) because they're thinking too much, we'll scale it back down."
Can the special teams become, well, special?
Dan Ferrigno has a lot of work to do in Ann Arbor. The new special teams coach hopes to reshape a Wolverines unit that struggled mightily last season. Michigan kickers were 4-of-14 on field-goal attempts, ranking last in the Big Ten. The Wolverines were also seventh in the league in punting, eighth in punt and kickoff return average, as well as 10th in kickoff coverage. Plain and simply, Ferrigno knows games can be won or lost on special teams.
"We're going to put these guys under pressure," Ferrigno told The Detroit News recently. "Anybody can kick field goals in practice. What we do, we generate some pressure situations where, let's say at the end of practice, we bring them out and say, 'Hey, look we've got to make all of these. We don't make these, the whole team is running.'"
There's no question that Mattison's unit must improve. But the fortunes of the entire team can turn dramatically with better special teams play in 2011.
And then there's Denard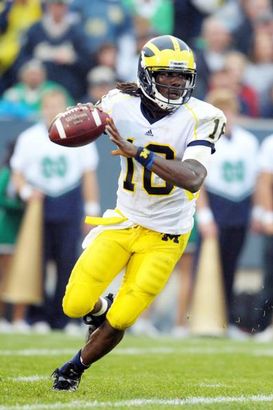 ICONDenard Robinson led all QBs in rushing and was second in the country in total offense last season.
Getting quarterback Denard Robinson to stay in Ann Arbor and not transfer was Hoke's biggest accomplishment yet as head man at Michigan. New coordinator Al Borges plans to use "Shoelace" a bit differently in this West Coast, pro-style offense, however.
Robinson, who led all quarterbacks in rushing and was second in the country in total offense last season, should still have the freedom to use his athleticism and dynamic skill set to thwart opposing defenses. However, expect a more balanced offensive attack, so the rising junior likely will see a decrease in his absurd rushing numbers. Keeping Robinson healthy is of primary importance, so less wear and tear on his legs could be beneficial. And Borges expects the yardage Robinson could lose on the ground to be made up through the air. Of course, Robinson's progress as a pure passer last season was striking.
With nine starters returning to an offense that averaged 488.7 yards and 32.8 points per game, the Wolverines will continue to put up points even if the offense looks schematically different with more tight ends and multiple-back sets. At the end of the day, it will be the defense — and overall team toughness — that decides how far Michigan can go in Hoke's first year in Ann Arbor.
Injury notes
Redshirt junior J.T. Floyd is recovering from foot surgery and will be limited this spring, and fifth-year senior Troy Woolfolk may see even less action than Floyd after suffering a dislocated ankle and broken leg last season. The Wolverines certainly are taking a cautious approach with both individuals, especially because they're two of the more experienced defenders in a young secondary.
The newest injury is running back Mike Shaw, who suffered a broken bone in his hand after trying to catch himself. The team's third-leading rusher last season as a junior will certainly be limited in the early portions of camp but should be able to participate with a cast on the hand for the remainder of the spring sessions.
Email dave.miller@nationalfootballpost.com or follow me on Twitter at Miller_Dave