July 28, 2011 -
Barry Dorey
Michigan State's Dantonio: Tressel is 'a tragic hero'
Mark Dantonio was an assistant on Jim Tressel's staff for eight seasons at both Youngstown State and Ohio State, so it's no surprise that the Michigan State head coach feels for the former Buckeyes leader after Tressel's fall from grace in Columbus.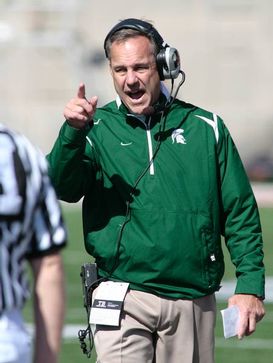 ICONMark Dantonio was on Jim Tressel's staff a combined eight seasons.
Still, Dantonio raised some eyebrows when he firmly defended the ousted Buckeyes coach when he took the stage for his presser at Big Ten Media Days Thursday in Chicago.
"It's very heartwrenching for me and my family," Dantonio said of watching a good friend and member of the coaching fraternity deal with such adversity. "We're close to coach Tress and he's had a lot to do with my life as a mentor, really since 1983. That's a long time.
"That's a tough situation. He's done a lot of good for college football. Every person he's come into contact with as player and coach, he's made a positive impact on their lives. To me, it's tragic. He becomes a tragic hero in my view. Usually tragic heroes have ability to rise above it all in end. That's what I look forward to."
It's tough to see where the heroic aspect of the situation comes into play, but Dantonio's allegiance to his mentor certainly has not weathered since Tressel was forced out of his office in Columbus.
Email dave.miller@nationalfootballpost.com or follow me on Twitter at Miller_Dave