August 24, 2010 -
Dave Miller
Michigan-Ohio State schedule shift will affect rivalry
With the Big Ten expanding to 12 teams in 2011 upon the arrival of Nebraska and the league going to divisional play with a conference championship game, the annual concluding rivalry game between Michigan and Ohio State could be a thing of the past.
Since 1943, the showdown between the Wolverines and Buckeyes has always occurred at the end of the schedule. But with the changing landscape of the league, even the best traditions are not immune from being altered.
"I can't sit here and say that it's going to be in place, or it's not going to be in place," Ohio State athletic director Gene Smith said of the season-ending rivalry on Tuesday. "We did have meetings yesterday in Chicago and we'll have more meetings. We're still looking at a lot of different scenarios. We'll just have to wait and see how it plays out.
"Change is tough. At the end of the day, I don't know what change we'll have. Even if we have Michigan at the end of the schedule, there's still going to be change. But I'm looking at a number of different scenarios and there's change in all of them.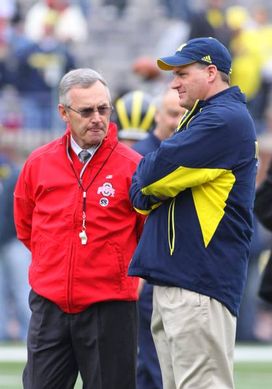 ICONThe Ohio State-Michigan rivalry faces change in light of Big Ten expansion.
No Michigan-Ohio State on a late-November Saturday?
Say it ain't so.
Referred to as "The Game" by many college football fans in the Midwest, the schools first squared off on the gridiron in 1897. Since then, the teams have met 106 times.
Big Ten commissioner Jim Delany said this summer that the league would do its best to make sure that the tradition and rivalries are respected, but that the most important thing is that the teams play.
The Wolverines and Buckeyes will always square off each year, but the game's date is now in question.
The other oddity that will be in play concerns the splitting of the league into two divisions. If Michigan and Ohio State are in the same division, meeting for the conference championship would not be able to occur. Yet if the Wolverines and Buckeyes are in different divisions, the teams could meet twice in the same season.
Would a potential Michigan-Ohio State Part II at all detract from the spirit of the rivalry — or perhaps enhance it if both teams are good enough to reach the title game?
College football is all about its tried and true traditions. The sport is unquestionably rich in its ties to the past. Would moving the game to October make the matchup feel like just another game?
Follow me on Twitter at Miller_Dave or send your college football questions to dave.miller@nationalfootballpost.com
Click here to purchase the Total Access Pass / Fantasy Draft Guide from the NFP.