October 17, 2011 -
Dave Miller
Michigan's 'Shoelace' quandary
Denard Robinson is undoubtedly one of the most exciting players in college football.
The Michigan quarterback has thrilled Wolverine fans the last two seasons with his dynamic playmaking ability, often turning dead plays into huge gains.
But if Brady Hoke wants to win a Big Ten championship with the junior Robinson on his roster, the first-year Wolverines head coach may have to consider whether "Shoelace" is best suited to be the team's quarterback on an every-down basis.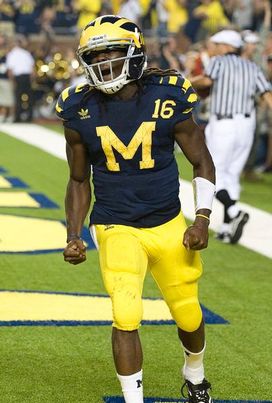 ICONDenard Robinson is a special talent, but is he a good enough passer to deliver a Big Ten title to Ann Arbor?
In Saturday's loss at Michigan State, Robinson went 9 of 24 passing for 123 yards with a touchdown and an interception. Granted, it was a windy day in East Lansing. But even in ideal conditions, Robinson has shown this season that he isn't a consistent passing threat in Al Borges' offense.
What's most alarming for the Michigan coaching staff is Robinson's propensity to throw up jump balls — wild tosses that can result in big plays for either the Michigan offense or the opposing defense. This fall, "Shoelace" is completing only 53.9 percent of throws, and he's already thrown 10 interceptions. He threw 11 picks all of last season while completing 62.5 percent of his passes.
There's no question that Robinson is one of the 11 best Wolverine players on offense. But is it time to turn the starting quarterback duties over to Devin Gardner, the No. 2 quarterback, and utilize Robinson in a variety of ways in Borges' offense?
Gardner came off the bench against the Spartans, and while he made some mistakes he certainly looked as if he could give the Wolverines a pure passing threat at the quarterback position. And he's better built to take a pounding at QB, something that Robinson is not after being forced to leave the game due to injury for the second straight week. Of course, staying on the field was a problem for Robinson last season as well.
Gardner finished 3 of 7 for 45 yards against the Spartans, including a 32-yard pass to Jeremy Gallon on the Wolverines' final drive. Even Hoke admitted that Gardner can throw the ball more accurately than Robinson. And while he took back-to-back sacks to close the game, the sophomore will only get better with more snaps.
According to ESPN Stats & Information, Robinson completed just 3 of 11 passes on Saturday when Michigan State sent five or more pass rushers, including MSU's pick-six with 4:31 remaining in the game. More damning was that the pick was Robinson's seventh against a blitz this season in 57 attempts. In 2010, he had just one interception in 80 attempts against extra pressure.
It should be noted, however, that the MSU front seven is arguably the best one that Robinson will see all year. So Wolverine fans don't have to worry about losing the battle at the line of scrimmage so badly again this regular season. At least they hope that's the case.
We know that Robinson is still adjusting to the new offense, and we know that Hoke has progressively allowed Robinson to run the ball at will despite wanting to make him more of a pocket presence. To Hoke's credit, he realizes that the Wolverines are capable of big plays whenever Robinson has the ball. But can Michigan win a Big Ten title this season or next with its best offensive player regularly chucking the ball down the field and hoping his receivers come down with the football?
Notre Dame head coach Brian Kelly would likely argue that the Wolverines can win a championship with Robinson as the No. 1 signal-caller. After all, his jump balls worked against the Irish.
But after watching him against a sound Spartans defense this past weekend, I'm not so sure.
The Wolverines' success this season will be dictated by the play of Greg Mattison's defense, of course. But Robinson will need to start resembling the player who threw for over 2,500 yards last season while keeping his mistakes to a minimum. Better offensive line play would certainly help as well.
It's nearing late October, so it's hard to see Robinson not taking most of the snaps at quarterback for the Wolverines. But is it in Michigan's best interests to get Gardner more reps at quarterback and possibly take Robinson out of his rhythm during the game? Or should Hoke live and die with an electrifying playmaker prone to some head-scratching throws down the field?
With a spot in the Big Ten title game as the ultimate goal this season, the stakes are high for Hoke and the Wolverines — and for Robinson if he wants to remain as the primary passer in Ann Arbor.
Email dave.miller@nationalfootballpost.com or follow me on Twitter at Miller_Dave