August 03, 2010 -
Dave Miller
Michigan's Woolfolk has 'lack of respect' for Forcier
If Michigan senior cornerback Troy Woolfolk had his choice of the Wolverines' starting quarterback for the season opener, it's pretty clear who he would want under center: Denard Robinson.
Speaking on the second day of the Big Ten's media gathering in Chicago, Woolfolk expressed his disappointment in the Wolverines who elected to not participate in the team's voluntary workouts this offseason. Tate Forcier is among the players whose absence most resonated.
"I personally have a lack of respect for them," Woolfolk said. "The outlook on them is kind of diseased. Like you don't want to be hanging around those people because they have bad work ethic. But at the same time, it's my role to try to persuade them to come out more."
"Denard has been out there through the thick and thin and been out there all the time regardless if he's hurting," he said. "And Tate, he tries to come out, but he's not as consistent as Denard is. And that's allowed Denard to jump a little bit ahead of Tate and I think that Tate's going to have to do a lot of work to catch back up to Denard in camp this year."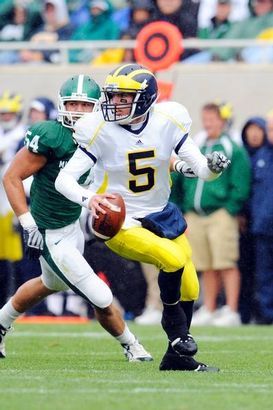 ICONHas Tate Forcier lost his grip on the starting QB job at Michigan?
Throughout the offseason, head coach Rich Rodriguez has stressed that the competition between the two sophomores for the right to start under center was wide open. For Woolfolk, however, the competition has turned in Robinson's favor, with the team's perception of players who don't show up to the workouts a big reason.
Woolfolk noted that Forcier hasn't shown up to as many workouts as him and the other seniors feel he should have with the Wolverines entering a make-or-break season for Rodriguez in Ann Arbor.
"The only reason he's not really labeled as diseased is because of the way he was able to carry the team last year before we started losing. People still trust him a little bit, but he's starting to lose that trust."
After showing promise as a runner and athlete last season while filling in for Forcier, Robinson made huge strides during spring drills, looking like a remarkably better passer. And according to some players, he has also made strides off the field.
"He's definitely taken on some leadership," senior offensive lineman Steve Schilling said. "He's there every day working hard. He's been a guy that doesn't complain. He makes you want to play for him, and he has those qualities to be a special leader and a special quarterback."
Rodriguez informed Forcier in the spring that a stiff challenge from Robinson and early enrollee Devin Gardner was ahead, and that battle looks to be one of the more intriguing storylines in the Big Ten this August.
Follow me on Twitter at Miller_Dave or send your college football questions to dave.miller@nationalfootballpost.com
Ready for fantasy football? Click here to purchase the 2010 Total Access Pass/Draft Guide from the NFP.