October 15, 2010 -
Dave Miller
Midseason surprises and disappointments
We are in Week 7 of the college football season, which is the unofficial halfway point of the 2010 campaign.
Boise State is one of 13 remaining unbeatens, defending national champion Alabama looked vulnerable against South Carolina and Rich Rodriguez may in fact be off the hot seat — for now.
There's still plenty of football to be played, but let's take a look at some of the biggest surprises and disappointments thus far as we enter the third weekend of October.
Biggest surprises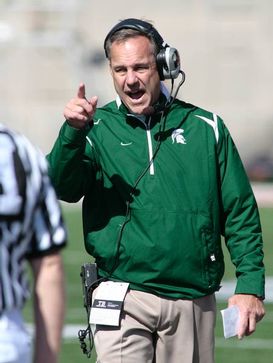 ICONMark Dantonio and his Spartans have had quite a wild season.
Michigan State: The Spartans have always had the talent under Mark Dantonio. But for some reason, they would find ways to lose. Throw in the off-the-field incidents last season, and there were concerns as to how far Dantonio would be able to take MSU. Well, even though he's missed a few games for health reasons, the preparedness of the Spartans for this season has been evident — and that's directly attributable to the coaching staff. The magic began with the fake field goal to beat Notre Dame and continued with a well-played home win over Wisconsin. And then, in Ann Arbor last week, Michigan State beat rival Michigan for the third straight time — the first time that's happened since 1965-67. It must feel good to be 6-0 and not have to play Ohio State.
NC State: Tom O'Brien entered this season knowing that he had to win, especially with a new athletic director on board in Debbie Yow. If not for blowing a 17-point lead against Virginia Tech, the Wolfpack would be sitting at 6-0 and 3-0 in ACC play. Still, a 5-1 mark has NC State on pace for a strong campaign following victories over Cincinnati and Georgia Tech. The return of linebacker Nate Irving has really helped a defense that was woeful in '09, and Russell Wilson has been spectacular at times moving the ball down the field with a deep and talented receiving corps. If freshman Mustafa Greene continues to run the football well, the Wolfpack will be a dangerous out the rest of the season.
Denard Robinson/Michigan: It's not so much of a shock that the Wolverines have rebounded from a couple of difficult years under Rich Rodriguez. But who would have thought that perhaps the nation's best player would be under center in Ann Arbor this year? Robinson's impact on the offense — and his trendability in the Twitter era — has made him one of the best stories of the season. He had his first encounter with failure last week, so it will be interesting to see how he responds — and if defenses will be able to slow him down in the second half.
Syracuse: The Orange come with a little asterisk because they beat two FCS schools, making it necessary to win at least seven games to become bowl eligible. But Doug Marrone has this team playing hard, and the Carrier Dome could be deafening on Saturday against Pittsburgh. Coordinator Scott Shafer's defense is allowing less than 15 points per game and sophomore quarterback Ryan Nassib has been steady under center. Even though the Panthers have struggled this year, snagging a win over the preseason favorites will quiet the naysayers and assert the Orange as a Big East contender.
Army: The Black Knights are 3-0 on the road — including a win over David Cutcliffe's Duke squad (I know it's Duke, but it's still an ACC foe). Even in their losses to Hawaii and Temple, the Knights were in the game the whole way. The spread triple-option rushing attack ranks No. 9 in the nation in yards, and the team has already scored 194 points on the year — 10 more than all of last season.
Biggest disappointments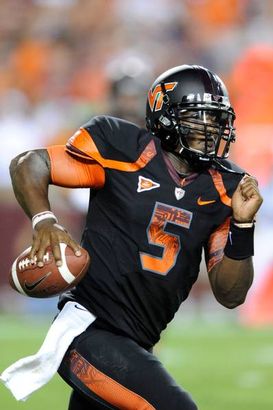 ICONCan Tyrod Taylor lead the Hokies to an ACC Coastal division title?
ACC Coastal: I thought this division had a chance to be one of the strongest divisions in the nation, but Virginia Tech, Miami (FL), Georgia Tech and North Carolina all have two losses already. We know about the personnel losses and drama in Chapel Hill, so the Tar Heels' struggles are understandable. But the Hokies lost to James Madison after the emotional Boise State game, Jacory Harris has crippled the Hurricanes at times and Georgia Tech lost to a woeful Kansas squad and was whipped by Russell Wilson and NC State. Throw in 1-4 Duke — a team I thought could surprise under Cutcliffe — and this division has not had the national impact that I had expected before the season. I still think the Hokies are the most balanced and will be a tough out the rest of the way.
Clemson: In the ACC's Atlantic division, the Tigers certainly have had a rough three-week stretch — at Auburn, home against Miami and at North Carolina. They have competed in every game, including having a 17-point lead against Auburn. But the offense hasn't been in sync under quarterback Kyle Parker, as the unit has been plagued by turnovers, penalties and subpar play from the receiving corps. Andre Ellington has emerged as one of the best backs in the league, however, and the defense is No. 2 in the country in tackles for loss and No. 19 in sacks. However, the unit has been inconsistent at times. Can Dabo Swinney keep this team focused the rest of the way?
The Big East: Yes, maybe it really is the Big Least. I have been a big supporter of the league even in its down years, and yet again the conference has really taken it on the chin in 2010. South Florida is struggling as B.J. Daniels adjusts to being more of a pocket passer while Connecticut has been spotty despite returning a boatload of starters. Cincinnati has not been able to protect Zach Collaros and Pittsburgh has shockingly been inept on offense. The good news is that league play has begun, so we'll get a chance to see if one of these teams could right the ship and make the league more respectable.
The L.A. schools: Lane Kiffin has one of the toughest coaching jobs in America right now, as he will have to keep USC focused as it tries to bounce back from back-to-back last-second losses to Washington and Stanford. Without a bowl game in their future and a conference title unlikely, will some Trojans check out? Meanwhile, UCLA's crazy season continued last week at Cal. The Bruins seem to either get blown out or win big. Kevin Prince can't stay healthy, so UCLA would be best served to feed the rock to its talented backs out of the pistol offense.
Washington: With a 2-3 mark and a brutal remaining schedule, it doesn't look as if Jake Locker will be able to take the Huskies bowling. Nick Holt's defense remains a major concern, and Locker has not been able to hook up consistently with his deep receiving corps. It may be a tougher rebuilding job than expected for Steve Sarkisian.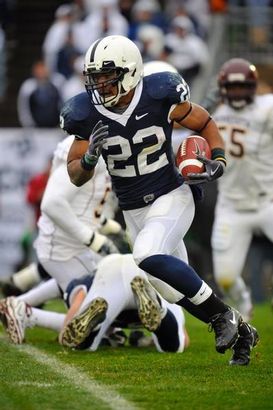 ICONEvan Royster has not been able to provide a lift to the Nittany Lions offense.
Offenses at Penn State, Florida and Texas: I can understand how having a true freshman under center would affect the Nittany Lions, but Evan Royster's lone standout effort came against Temple. The Gators have no offensive identity ri ght now, and I'm not sure that John Brantley should shoulder all of the blame. I think the team really misses Dan Mullen as offensive coordinator — they did last year even with Tim Tebow. And Garrett Gilbert has not had the consistent rushing attack to complement the aerial attack in Austin. The offensive line may be the biggest disappointing aspect of that Longhorns offensive unit.
Georgia: It's safe to say that Bulldogs fans aren't happy with the job Mark Richt has done in Athens this season. New signal caller Aaron Murray can't be blamed for the Bulldogs' woes, as he has performed admirably without both A.J. Green and a productive rushing attack. New coordinator Todd Grantham has implemented the 3-4 scheme, but the defense has continued to give up big plays. In addition to having three conference losses, the Bulldogs have also lost to Colorado and its coach on the hot seat, Dan Hawkins. Is it a bleak future for Richt?
Follow me on Twitter at Miller_Dave or send your college football questions to dave.miller@nationalfootballpost.com
Want to work in the NFL? Click here to register for the NFP's "Chalk Talk" seminar in Chicago on October 22nd.