April 09, 2011 -
Dave Miller
Mid-spring Top 25
Practices are in full swing across the college football landscape, and some teams have even finished early preparations for 2011 by holding their concluding spring game.
This Saturday morning at the NFP, instead of opening up the college notebook and checking in on what's happening on campuses across the country, let's dive headfirst into a controversial issue — early preseason polls.
Last week, in honor of opening weekend of the baseball season, I decided to put together a list of college football's 25 best players entering the 2011 season — a 25-man roster of the nation's best, if you will. As I mentioned, I will be releasing my official Top 25 players in August before the season begins.
This week, I offer you a mid-spring early preseason Top 25 — because releasing one after Auburn defeated Oregon in the BCS title game would have just been insane. Although, I did release a Top 5 — which I subsequently turned into a Top 10.
Being that it's mid-April, however, I think it's appropriate to look ahead. And when the last team in the nation concludes its schedule with its spring game, I likely will release a final pre-preseason poll because who doesn't like Top 25's?
A very (but not too much so) early Top 25, taking into account each team's schedule to an extent. But overall, a ranking of the best 25 teams entering 2011.
1. LSU: Les Miles didn't think returning to Michigan compared to coaching some of the best talent in the nation at LSU. If the Tigers get better play under center, they'll be hard to beat — including in the opener against Oregon at Cowboys Stadium.
2. Oklahoma: Quarterback Landry Jones and receiver Ryan Broyles will lead an explosive offense that should flourish even with the loss of running back DeMarco Murray. Can the Sooners survive an early nonconference tilt against Florida State in Tallahassee?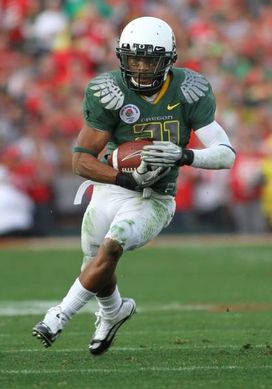 ICONCan LaMichael James and the Ducks return to the BCS title game?
3. Oregon: The Ducks were three points away from winning the national title — no matter how overmatched they looked at times. LaMichael James and Darron Thomas will continue to make defenses look silly in the up-tempo spread attack, but can Cliff Harris and the defense keep pace?
4. Boise State: The Boise train continues to run smoothly as long as quarterback Kellen Moore is leading the way. With Austin Pettis and Titus Young departed, though, can he be as successful in the vertical passing game? If the Broncos get past Georgia, home games against Nevada and TCU are the toughest tests on the schedule.
5. Alabama: Alabama lost its starting quarterback, running back, best receiver and most dominant defender. Still, this is a Nick Saban-compiled roster. Losing top NFL prospects shouldn't prevent the Crimson Tide from returning to the Top 10.
6. Oklahoma State: Dana Holgorsen left Stillwater for his eventual head-coaching gig at West Virginia, but the Cowboys return quarterback Brandon Weeden and stud receiver Justin Blackmon. Todd Monken won't have to do much tinkering with this offensive unit.
7. Nebraska: Expect the Cornhuskers to storm into the Big Ten in the fall. The suspensions at Ohio State and Wisconsin's question under center — even though I like Jon Budmayr's future — give the 'Huskers an edge in their debut campaign in the league. At the very least, they should represent the Legends division (or is it Leaders?) in the league's championship game, possibly in a rematch against Ohio State.
8. Florida State: The Seminoles return 17 starters and seem primed to return to national prominence under second-year head coach Jimbo Fisher. But is E.J. Manuel ready to become a full-time starter?
9. Arkansas: Tyler Wilson came off the bench and filled in admirably for Ryan Mallet against Auburn last season, and he'll have perhaps the best set of receivers to throw to in the nation, as well as the SEC's leading rusher from 2010 (Knile Davis).
10. Texas A&M: Ryan Tannehill helped direct a fantastic late-season surge by the Aggies once he assumed the starting job under center. Mike Sherman has a talented squad, but Tim DeRuyter's defense will have to continue to make strides in his second season as coordinator — without stud linebacker Von Miller.
11. TCU: Andy Dalton is gone, but the Horned Frogs will always run the ball and play incredible defense under Gary Patterson. Youth will not be an excuse next fall, so look for TCU to enter the Big East the following season on a high note.
12. Stanford: The Cardinal lose three offensive linemen, their top receivers and Owen Marecic. But they regain the services of Heisman frontrunner Andrew Luck. Oh yeah, I forgot about that Jim Harbaugh departure. The loss of that bold persona can't be replaced by new head coach Davis Shaw. And don't forget that Greg Roman was the meat and potatoes behind the offense and Vic Fangio led the dramatic turnaround on defense. Those great minds left for San Francisco with their head coach.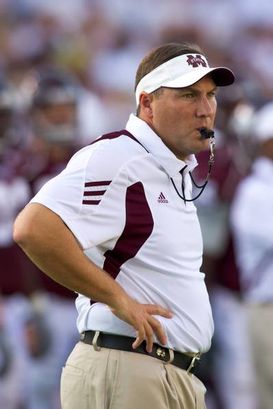 ICONDan Mullen is leading a Bulldogs revival in Starkville.
13. Mississippi State: Third-year head coach Dan Mullen continues to build up his program in Starkville. Losing defensive coordinator Manny Diaz to Texas hurts, but Mullen has the horses to still field a solid defense as well as an improving offense with Chris Relf under center.
14. South Carolina: The Head Ball Coach unquestionably has his most talented team in Columbia. The big question remains whether Stephen Garcia gets the chance to build off a nice 2010 season or whether Connor Shaw ultimately wrests the starting gig away. Still, any team with Marcus Lattimore in the backfield should be fine no matter who is under center.
15. Ohio State: Can Ohio State survive the first five games without Jim Tressel, Terrelle Pryor, DeVier Posey and the rest of the Buckeye Five? Even if they do, a road tilt at Nebraska would be the first game back for the offenders.
16. Notre Dame: The Fighting Irish closed last season with four consecutive victories, including a win over Miami in the Sun Bowl. But even with Brian Kelly's "next-man-in" mentality, ND could really feel the effects of losing Michael Floyd if he is suspended for any length of time.
17. USC: I like Matt Barkley and this offense in 2011 — a lot. The major question is, can Monte Kiffin's unit be at least respectable?
18. Auburn: The loss of Cam Newton won't cripple the defending champs because they'll still run the ball effectively even after losing four starting linemen, and they'll have a sound passing attack with either Barrett Trotter or Clint Moseley under center. The major question is on the defensive side of the ball, where the Tigers lose seven starters. I don't expect the Tigers to be as stout against the run, but an improved pass defense could actually make Ted Roof's unit more balanced.
19. Virginia Tech: After a disastrous 0-2 start last season, Tyrod Taylor put the Hokies on his back and led them to the Orange Bowl. With the veteran signal caller gone, can 6-6, 242-pound former tight end Logan Thomas fill the void and score enough points to help out Bud Foster's defense?
20. Michigan State: The Spartans rolled over in their two biggest games last season — the roadie against Iowa and the Capital One Bowl against Alabama. It's up to head coach Mark Dantonio to make sure things are different in 2011.
21. Florida: Will Muschamp and Charlie Weis. Are these your older brother's Gators? Likely not, but they should be better than last year, which should satisfy at least a faction of fans at The Swamp.
22. Wisconsin: The Badgers must survive the loss of six All-Big Ten standouts, but the star power at running back and the continual replenishing on the offensive line makes this team a fixture in the Top 25. I think the defense doesn't have to take a step back if a pass-rush specialist emerges, and Jon Budmayr is an intriguing player under center.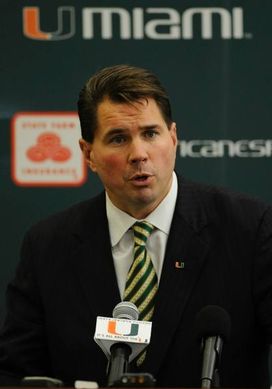 ICONAl Golden enters his first year as the leader of the Hurricanes.
23. Miami: Al Golden will win at Miami. But will he win enough to satisfy a fickle fan base? Making an appearance in an ACC championship game should come sooner than later.
24. West Virginia: With the arrival of Dana Holgorsen from Oklahoma State, Geno Smith should direct this offense down the field on a consistent basis. There is speed all over the field, but will the Mountaineers avoid stubbing their toes in Big East play?
25. BYU: I love the move of the Cougars to declare its independence. However, the early-season schedule is brutal — at Ole Miss, at Texas, vs. Utah and vs. Central Florida to open things up. But quarterback Jake Heaps is an exciting player, and he'll have a veteran group around him to help ease the load.
They just missed the cut, Masters edition
Georgia
Central Florida
Missouri
Tennessee
Texas
When it comes to anything and everything related to college football, I will continually spread what I hear on Twitter throughout the day at Miller_Dave, so be sure to stay tuned if you're a frequent tweeter. Also, you can find my stories under my Against the Grain column.
Have a college football question? Feel free to send me an email at dave.miller@nationalfootballpost.com.
Have a great weekend, and enjoy my boy Rickie Fowler making a run at the green jacket.