December 29, 2010 -
Dave Miller
Military Bowl preview: Maryland-East Carolina
For at least one day, Maryland players can forget about the mess that is taking place at the football offices in College Park and focus on playing football. Terrapins, veterans and freshmen alike, will try to give outgoing head coach Ralph Friedgen a proper sendoff by winning the Military Bowl against East Carolina at RFK Stadium.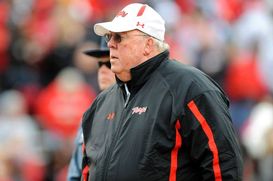 ICONRalph Friedgen will be coaching his last game at Maryland in the Military Bowl.
No matter how Terps fans remember The Fridge, they certainly should never forget the seven bowl appearances the team made in 10 seasons under his direction. After rebounding from a disastrous 2-win campaign last year to go 8-4 and win ACC coach of the year in 2010, Friedgen enters Wednesday's game with a 74-50 record and the third-most wins in program history.
Apparently, athletic director Kevin Anderson believes he can find someone to do a better job with the program.
Here are some things to watch for during this contest.
Maryland (8-4, 5-3 ACC) vs. East Carolina (6-6, 5-3 C-USA)
The Terps will put up points: East Carolina has allowed an FBS-worst 478.8 yards per game this year and have allowed at least 45 points in five straight games. That bodes well for redshirt freshman quarterback Danny O'Brien, who was the ACC rookie of the year. O'Brien passed for 2,257 yards and 21 touchdowns — the most touchdown passes by a Terps quarterback since Scott Milanovich with 26 in 1993. With offensive coordinator James Franklin off to Vanderbilt to lead the Commodores, Friedgen said he may even let O'Brien call some of the plays. He's a real heady leader and was one of the Terps' biggest surprises in 2010.
Torrey Smith: The Maryland receiver set a school record with 272 all-purpose yards against NC State in the regular-season finale, and he ranks seventh in ACC history in career all-purpose yards. Going up against the nation's worst defense and a group of cornerbacks who have only two interceptions this season? That spells doom for the Pirates. Good luck to Emanuel Davis and Travis Simmons — the two corners who will be in charge of keeping him in check.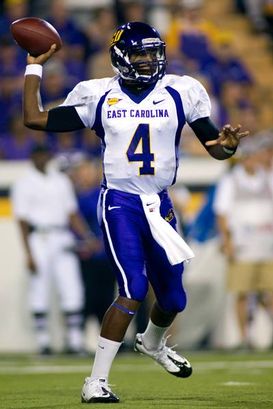 ICONWithout QB Dominique Davis, East Carolina would be home for the holidays.
If Dominique Davis gets hot…: The East Carolina quarterback, who played in junior college after spending his first season at Boston College, is the single reason why the Pirates are bowling. You take away his Hail Mary touchdown pass with no time left in the season-opener against Tulsa, and Ruffin McNeill's squad would be home for the holidays. Davis established new school single-season records for attempts (552), completions (358), passing yardage (3,699) and touchdown passes (36), and he ranks No. 1 in the country in completions per game, fourth in passing yards per game and sixth in total offense per game. Simply put, the spread option has been his best friend. Not bad for someone who had to sit out spring practice.
Torrey Smith, meet Dwayne Harris: Harris, who was recruited to the Pirates as a quarterback, was named the MVP of Conference USA and also made the first team as a receiver and return specialist. The senior set the single-season school records for receptions (93) and receiving yards (1,055) this year, and he ranks fifth in the nation in all-purpose yards with an average of 171 per game. We certainly may see both Smith and Harris have a major impact on special teams in this one.
The skinny
East Carolina has made five straight bowl appearances but has only one win in that span. The Pirates ended the season with losses in four of their last five games because of their defense, but this was a team that returned just eight starters. Can the same Pirates team that beat NC State and held the Wolfpack to 27 points show up in the postseason showcase? Or will The Fridge win his ninth game of the season — his final one, for some reason, in College Park?
Odds and ends
• Maryland had the second-biggest turnaround in the FBS this year, improving from 2-10 to 8-4. Only Miami (OH) had a bigger increase in wins with 7.
• The Terps have not played a C-USA opponent since beating UAB in 1996.
• The average score of an East Carolina game this year is 43-38 — with the other team averaging 43.
• The Pirates lost 34 lettermen from the 2009 squad, which was the most among FBS schools.
Email dave.miller@nationalfootballpost.com or follow me on Twitter at Miller_Dave