December 27, 2012 -
Dave Miller
Military Bowl preview: San Jose State vs. Bowling Green
The 2012-13 college football postseason continues Thursday as San Jose State and Bowling Green collide in the Military Bowl.
Let's take a glance at this matchup between the Spartans and the Falcons.
San Jose State (10-2) vs. Bowling Green (8-4) at 3 p.m. ET on ESPN
Washington, D.C.
San Jose State enters the postseason playing some of the best football in the nation, as the Spartans rolled up a season-high 610 yards of total offense and defeated Louisiana Tech to extend their winning streak to six games. The Spartans' first 10-win season since 1987 helped Mike MacIntyre land the head-coaching gig at Colorado, and the SJSU passing attack was one of the biggest reasons for the team's success. Junior-college transfer David Fales leads the nation with a 72.1 completion percentage, and he's thrown for 3,789 yards with 31 touchdowns against nine interceptions. His favorite target has been junior wide receiver Noel Grigsby, who has recorded 1,173 receiving yards and nine touchdowns.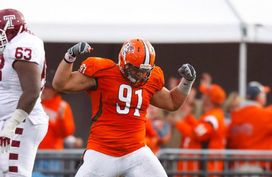 US PRESSWIREDT Chris Jones was the MAC defensive player of the year after registering 12.5 sacks and 19 tackles for loss.
Meanwhile, Bowling Green bounced back from a 1-3 start, winning seven of its last eight games to earn a bowl berth. And the defense was one of the biggest reasons for the Falcons' turnaround. Dave Clawson's squad ranks in the Top 10 nationally in total defense at less than 290 yards per game, and they are giving up less than 16 points per contest. The strength of the unit is the pass defense, which is allowing less than 175 yards per game. Senior defensive tackle Chris Jones, who was the MAC defensive player of the year, is the player to watch after registering 12.5 sacks and 19 tackles for loss. Fales will certainly have his hands full going up against a stout defense. Offensively, third-year starter Matt Schilz had been steady under center before tossing three interceptions each in the final two games against Kent State and Buffalo, while sophomore Anthon Samuel paces the rushing attack, rushing for 966 yards and a team-high 10 touchdowns.
With MacIntyre gone, the Spartans will be coached in this game by defensive coordinator Kent Baer, who will join MacIntyre in Boulder after this game. It will be interesting to watch just how organized the Spartans are in this one considering the coaching shakeup. Bowling Green's defense should be able to get some stops on Fales and the SJSU offense, but do the Falcons have enough weapons offensively to snag a win? The Falcons' offense finished eleventh in the MAC, averaging only 373.9 yards per game. Bowling Green gave Florida a scare and also beat Ohio, holding the Bobcats' offense in check. But the Falcons also lost 37-0 to Virginia Tech. However, this is a much-improved team from September when they were shut out against the Hokies.