November 04, 2010 -
Dave Miller
Missouri QB Gabbert received offensive messages on Twitter
Once again, some passionate college football fans suffered a case of misdirected anger.
Despite leading Missouri to seven straight victories, quarterback Blaine Gabbert received harsh and offensive Twitter messages following the Tigers' first loss of the season last week to Nebraska.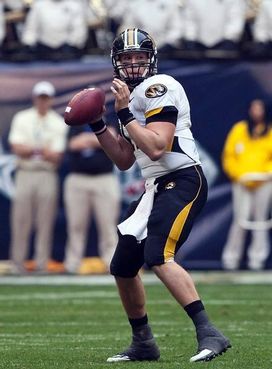 ICONMissouri QB Blaine Gabbert
While the majority of the tweets were supportive, Gabbert wrote at one point, "Headed back to work. People who hide behind twitter accounts are funny to me!"
The signal caller, who has around 7,000-plus followers on the microblogging and social media outlet, had one critic write that he would call Gabbert an offensive name if he ever saw him in person in Columbia. Gabbert responded to the angry tweet on Sunday by saying, "You should." The quarterback has since deleted the tweet.
"It was a poor decision," Gabbert said. "That's all I really have to say about that."
Negative comments from fans toward players is becoming increasingly common thanks to the popularity of websites like Twitter and Facebook.
Sophomore receiver T.J. Moe described the angry fans as "the haters."
Moe, who is also on Twitter, said ignoring angry fans is the best way to handle these situations.
"You just try to stay out of it," Moe said. "We get a lot of haters. That's just how it works. They're going to love you when you're doing good. They're going to hate you if you lose. I don't even think Blaine played poorly. We lost the game, and the camera's on him all the time."
Moe knows that accepting any and all communication when you're on a social network is part of the deal, especially when you're an athlete.
"You're kind of asking for it if you have a Twitter account or a Facebook," he said. "It sort of comes with the territory. If you want the praise and all that kind of stuff and you want all the fan interaction then you have to deal with the haters."
Email dave.miller@nationalfootballpost.com or follow me on Twitter at Miller_Dave