February 10, 2011 -
Dave Miller
MLB pitcher not the biggest fan of Vick
It's safe to say that Chicago White Sox pitcher Mark Buehrle will not be congratulating Philadelphia Eagles quarterback Michael Vick on his NFL Comeback Player of the Year Award.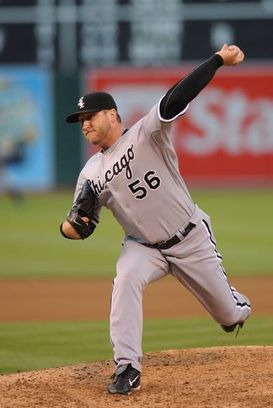 ICONChicago White Sox pitcher Mark Buehrle
The baseball player and wife Jamie are such huge dog advocates that they founded a "Sox for Strays" program to support animal rescue groups. And in an interview with MLB.com, the topic of Vick came up. And it was clear that Buehrle wasn't ready to forgive the former Atlanta Falcon for his dog fighting history.
"Even if you are not a dog lover, how can you sit there and make two dogs fight and one is going to die?" Buehrle said. "How could you do that if you are somewhat sane?
"He had a great year and a great comeback, but there were times where we watched the game and I know it's bad to say, but there were times where we hope he gets hurt. Everything you've done to these dogs, something bad needs to happen to these guys."
Now those quotes, as well as a few comments by his wife, have since been removed from the MLB.com story after they started circulating around the Internet and getting mainstream pub. However, they do remain in the Chicago Tribune's report.
Follow the Daily Jolt on Twitter: Daily_Jolt
The Daily Jolt is a section of the National Football Post that serves as a one-stop shop for all things football, sports, pop culture, everyday life and more.
The section's editor, Dave Miller, also writes the Against the Grain college football column for the NFP. When he isn't putting coaches on the hot seat, he can often be found daydreaming of being the future Mr. Kara DioGuardi. You can follow him on Twitter at Miller_Dave.