July 24, 2012 -
Dave Miller
Monumental task at hand for O'Brien at Penn State
The future of Penn State football seems awfully bleak after NCAA president Mark Emmert hammered the once-proud Nittany Lions program following the Jerry Sandusky sexual-abuse scandal and cover-up by the athletic department.
Among the major penalties are a $60 million fine, reduction of initial scholarships by 10 to 15 each season for four years, reduction of the total number of scholarships by 20 to 65 per year for four years, a four-year postseason ban and the vacation of all wins from 1998-2011.
Not exactly the ideal situation for first-year head coach Bill O'Brien, who left the NFL's New England Patriots for the job in Happy Valley. Because of the enormity of these sanctions, O'Brien has an uphill battle.
So where does he begin and how does he pick up the pieces?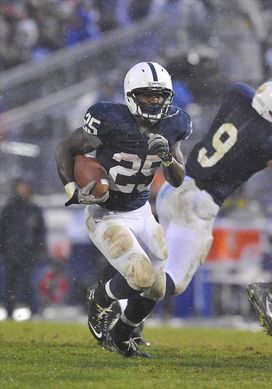 ICONSilas Redd may be one of many stars to leave Penn State for a more stable situation.
The first thing O'Brien has to do is ensure that his current 2012 roster returns for the start of preseason camp, which is set to begin in less than two weeks. The sanctions allow current players to transfer immediately without having to sit out a season. O'Brien has to prepare for the worst, and there's a chance that he will lose some of his best players. However, he can stress to his core players that it is in their best interests to stay the course, at least for this season, so that they don't have to go through the stress of learning a new playbook or fighting for playing time somewhere else this fall. Keeping players beyond this season, however, will be a real chore.
The huge reduction in scholarships will make it impossible to bring in the type of talent the Nittany Lions are used to fielding, and it will be tough to sell players on playing football without the possibility of a postseason — especially with a four-team playoff coming in 2014.
If there is a lot of roster turnover before the start of this season, O'Brien then will need to get his remaining players to rally around each other and begin to move forward as best as possible. Those that stay will be part of a rebuilding process that will take several years. And it's not just the four years with limited scholarships — the program will be affected several years beyond as well. But if O'Brien is able to hold onto most of his current players with strong character and a willingness to overlook Big Ten titles and bowl victories, then the rebuilding process at least becomes a bit easier because everyone will be moving in the same direction with the common goal of making the program as strong as possible.
The major hurdle that O'Brien faces in the longterm is obviously on the recruiting trail. How can he get top high school players to come to Happy Valley with the postseason no longer in the equation? Four-star cornerback Ross Douglas already decommitted following the news Monday morning.
The two things working in O'Brien's favor are that he can help players get to the NFL and there will be plenty of playing time available in Happy Valley, especially if there is a mass exodus. While the number of impact-type players coming to Penn State will dwindle, O'Brien may be able to land some high-character, high-star recruits because of his NFL-type schemes. Getting early playing time may also be appealing. However, the coaching staff can't miss on a lot of recruits because there is no room for error. And it will be difficult to snag the best players from the Mid-Atlantic area, a region that PSU has heavily recruited. Programs such as Maryland and Virginia may be able to take advantage.
Because of the massive scholarship reductions, Penn State has almost been rendered an FCS program trying to operate in the Big Ten. Star running back Silas Redd, who was one of the few offensive players who consistently produced last year, has already been linked to USC. And staffers from programs all across the country already have lists of players they're interested in poaching from the Nittany Lions' roster. And with preseason camps beginning in less than two weeks, players will move in a hurry, especially because the NCAA will allow schools to go beyond their 85-scholarship limit this season — so long as those schools reduce their number for the 2013 season.
There's no question that O'Brien has an unenviable task. Even if he miraculously is able to get some of his better players to remain loyal for 2012, how will the team's younger players from recent recruiting classes react to the reality that they'll never play for a Big Ten championship or in any bowl game?
Penn State football undoubtedly has a serious uphill battle. We'll find out soon how badly the roster will get hit in 2012. But that will just be an initial hit — one of many that O'Brien and his staff will have to absorb.
Email dave.miller@nationalfootballpost.com or follow me on Twitter at Miller_Dave