October 05, 2010 -
Dave Miller
Moss back to Vikes? J-Will back to Kings?
If the reported deal between the Minnesota Vikings and New England Patriots does indeed get done — an agreement that would send wide receiver Randy Moss back to the Twin Cities — then I think it's only appropriate that Jason "White Chocolate" Williams plays the 2010-11 NBA season with the Sacramento Kings.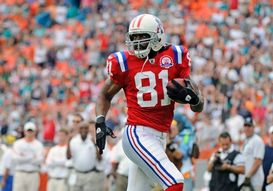 ICONIs Randy Moss close to returning to Minnesota?
The Vikings are reportedly working on a new contract for Moss, who is a free agent after this season, to close the deal — a trade that would have an immediate impact not just on the NFC North and AFC East but on the entire league.
Why do I bring up the NBA's Williams?
Well, as many of you may know, J-Will and Moss played basketball together at DuPont High School in West Virginia during the 1992 and 1993 seasons. The duo became good friends and drew hundreds of fans on game nights, forcing the school to install temporary bleachers to accommodate the overflow crowds.
The two also played on the football team, where Williams played quarterback and Moss obviously caught.
So the way I see it, to make this a true old-school, feel-good story, Orlando Magic general manager Otis Smith and Sacramento's Geoff Petrie owe it to sports fans across the globe to make this reunion happen, as well.
To see — likely for the first time in many years — the single-greatest commercial of all-time, check out the Nike commercial featuring the good friends and former teammates.
The Daily Jolt is a section of the National Football Post that serves as a one-stop shop for all things football, sports, pop culture and everyday life.
The section's editor, Dave Miller, also writes the Against the Grain college football column for the NFP. When he isn't putting coaches on the hot seat, he can often be found daydreaming of being the future Mr. Katy Perry. You can follow him on Twitter at Miller_Dave.