July 31, 2010 -
Dave Miller
Murray ready for heavy dose of carries at OU
One of the more intriguing Big 12 storylines heading into the 2010 season is the health of Oklahoma running back DeMarco Murray.
There's no question that Murray is as talented as any rusher in the entire country. The only thing that has held him back from reaching his full potential in Norman has been his inability to stay healthy for an entire season. As he prepares for his senior campaign with the Sooners, Murray has stressed the confidence that he can have an injury-free final season and hit the 1,500-yard mark on the ground.
High expectations, right?
Earlier in the offseason, Sooners head coach Bob Stoops teased the media that he didn't think 1,500 yards was enough for Murray. His loftier goal for the athletic tailback? Try 1,900 yards — Adrian Peterson and Quentin Griffin territory.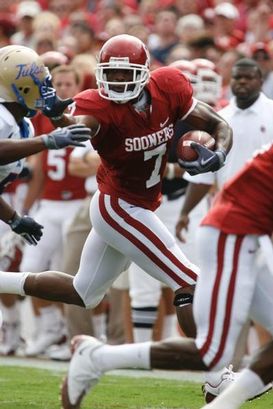 ICONIf he can stay healthy, DeMarco Murray should have a huge year for the Sooners.
For a back who has had only one 1,000-yard season in his career (1,002 in 2008), that's an ambitious number. But having watched some of the runs Murray has broken off throughout his career when he was healthy, I'm taking my money to the bank and buying the Murray hype for 2010.
And that was before Stoops' comments on Wednesday.
The head coach suggested that if Murray can stay healthy, he could garner an Adrian Peterson-type role on the team.
"He's had some bad luck with some odd, different injuries, and I really believe coming into this year, with his experience, his ability to run but to catch the ball out of the backfield, we really anticipate him having a really big year for us," Stoops said.
"We're hoping in line of similar to a guy like Adrian Peterson — that kind of opportunity to run the ball or have his hands on the ball that number of times is what we're hoping for."
With Chris Brown departing, Murray is finally the lead guy in Norman. Despite the Sooners' depth in the backfield — even taking into account Mossis Madu's issue with his DUI charge — the running game will begin and end with Murray if he can avoid the trainer's room.
And Murray has no qualms about being handed the rock consistently and performing up to A.P.'s level at OU.
"Adrian is a good friend of mine and I've talked to him about how do you do this and how do you do that," he said. "I do feel if I am healthy, I could have a better year than him. He's a great player, and I have tremendous respect for him, but he has always told me to shoot for the moon."
With a healthy Murray, the entire Sooners offense may be able to land on the moon.
All indications are that quarterback Landry Jones is ready to lead the Sooners for a full season. And with a deep group of receivers led by Ryan Broyles, the Sooners will have weapons all over the field.
But at the end of the day, the offense will only be as strong as Murray is healthy. And for Murray's future playing career, a rise up the 2011 NFL draft boards would certainly follow if he can play a full season.
So are you buying into the idea of Murray as the next A.P. for the Sooners this season?
Follow me on Twitter at Miller_Dave or send your college football questions to dave.miller@nationalfootballpost.com
Ready for fantasy football? Click here to purchase the 2010 Total Access Pass/Draft Guide from the NFP.